Applying for a Wells Fargo Secured Visa Credit Card can be accomplished by clicking on the "Apply Online" button on this page. The card is particularly useful for restoring creditworthiness for those who have poor credit ratings. Additional benefits include zero liability for card fraud emergency card replacement.
Requirements
In order to be deemed eligible for the Wells Fargo Secured Visa Credit Card, you must meet the following requirements:
Be 18 years of age or older
Be a resident of the United States
Not have any bankruptcies in the previous 6 months
How to Apply
Step 1: Go to This Webpage.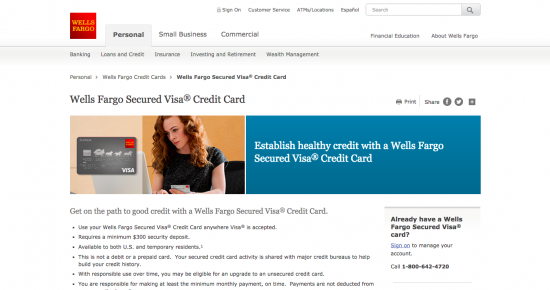 Step 2: After scrolling down a little bit, click on the orange "Apply Now" button.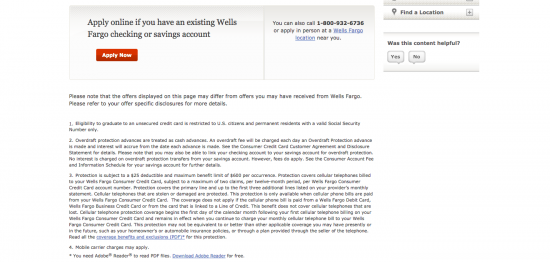 Step 3: After being redirected to the account login page, enter your username and password. If you do not have an account, continue to scroll down and click the blue "Continue" button.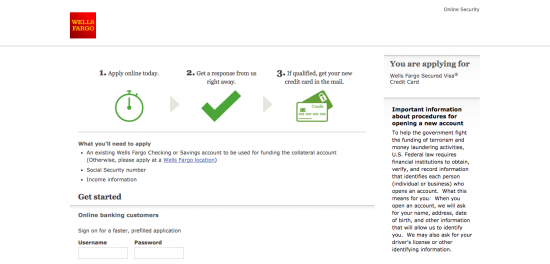 Step 4: For those without a Wells Fargo online banking account, the next page is where you will enter all of your personal and financial information. Starting under the "Personal Information" heading, enter the following:
Your name
Your current address (including city, state and ZIP code)
Your date of birth
Your home phone number
Email address
Social security number
Your citizenship
Security word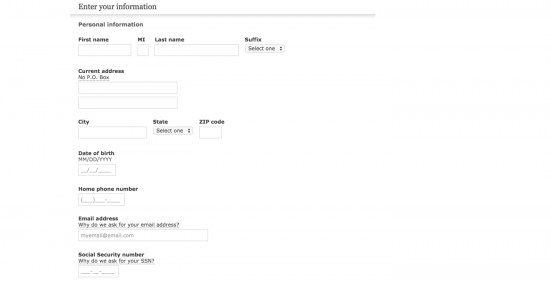 Step 5: In the next section, enter your financial information. This includes:
Your housing status
Monthly mortgage or rent payment
Employment status
Whether or not you receive additional income
Whether or not you are affiliated with a financial institution
Credit line amount
Collateral funding amount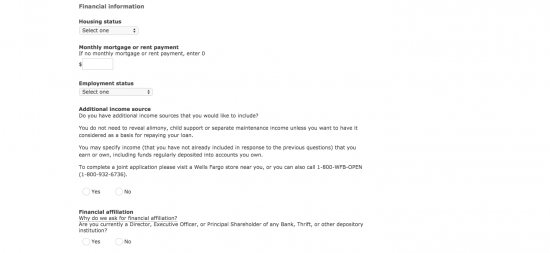 Step 6: Decide whether you would like to receive an email of the Terms and Conditions. Read and review the Terms and Conditions and the Privacy Policy, and, finally, click the blue "Submit" button to find out whether or not you have been approved for a Wells Fargo Secured Visa Credit Card.