If you're an animal lover looking for a way to support your favorite charity while paying for everyday essentials, the World Wildlife Fund BankAmericard Credit Card is an excellent choice. This credit card is issued by Bank of America, has no annual fee, and lets you donate to the World Wildlife Fund with every purchase.
Requirements
To receive a World Wildlife Fund BankAmericard Credit Card, you must meet the following requirements:
Have a credit history with no recent bankruptcies.
Be at least 18 years of age.
How to Apply
Step 1 – Visit the World Wildlife Fund BankAmericard Credit Card welcome screen to learn about the various benefits of the card. Click the blue "Apply now" button to begin the application process when you're finished reading.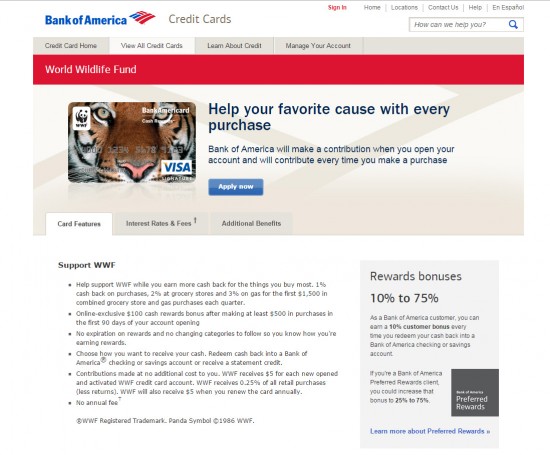 Step 2 – The application page may load slowly, so be patient. The top features a repeat of the information in the welcome screen. Notice that there are also links for FAQs, a customer service hotline, and online chat assistance if you are experiencing difficulty completing your application or have a question about the card's terms and conditions.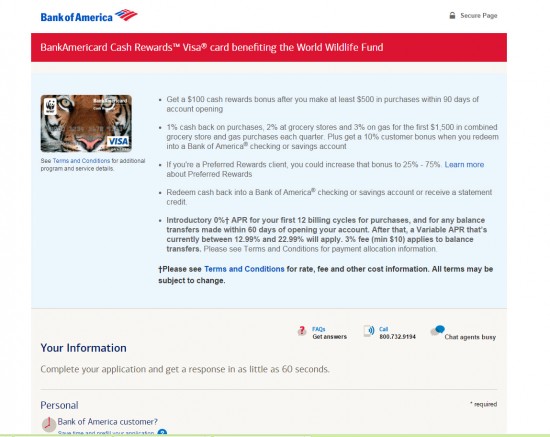 Step 3 – In the personal information section, type your full legal name, residential address, primary and alternate phone numbers, and email. (You can skip this step by clicking on the "Save time and prefill your application" link if you're a current Bank of America customer.)
Check the box that says "Send my statement to a different address" and enter the preferred address if you'd rather receive your credit card statement at your office or a location other than your home address.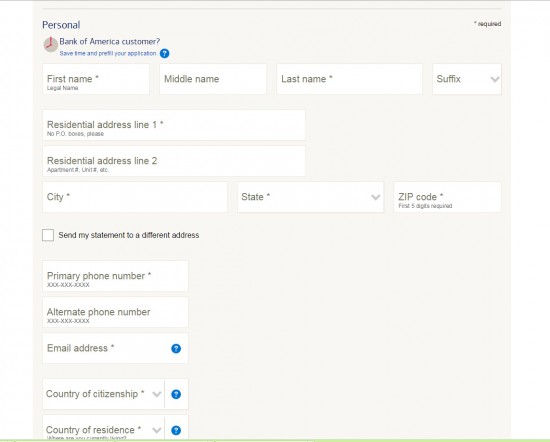 Step 4 – Choose your country of citizenship and country of residence from the drop down menus. Enter your date of birth and mother's maiden name.
In the employment and finances section, choose the option that best describes your employment status and answer any supplemental questions that are required for your situation. List your total annual income, primary source of income, estimated liquid assets, housing status, and monthly housing payment.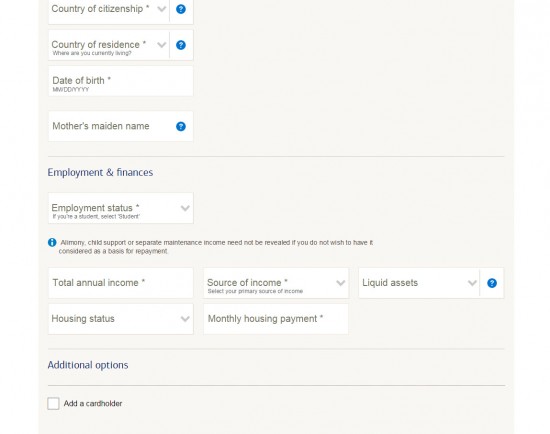 Step 5 – In the additional options section, you have the option to add a second cardholder. To do so, you'll need that person's full legal name, their relationship to you, and either their Social Security number, date of birth, or address.
Click on the "View as PDF" link in the terms and conditions section to save or print a copy of this important document for your records.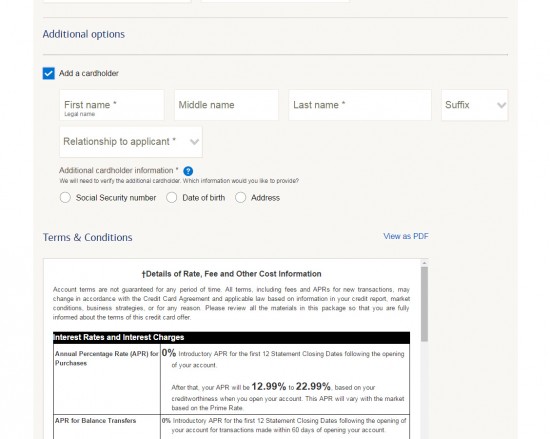 Step 6 – Check the box that acknowledges you've read and agree to the World Wildlife Fund BankAmericard Credit Card's terms and conditions. Click on the blue "Review your information" button to be taken to a screen asking you to verify that your information is accurate before you submit it to Bank of America for credit approval.