If you frequently travel south of the U.S. border, the AeroMexico Visa Signature Credit Card would most likely make a great addition to your wallet. It comes with a number of family friendly benefits that include an annual $99 companion certificate and a free fourth ticket whenever you buy three tickets on the same flight (with AeroMexico or other qualifying airlines). The rewards program offers cardholders 2 air miles points per dollar spent on qualifying purchases (gas, groceries, AeroMexico ticket purchases and AeroMexico vacations), and 1 air miles point per dollar spent on all other purchases. As a signup bonus, you will receive 20,000 after the first purchase is made with your card. You can redeem your earned miles for AeroMexico flights, flight partners, hotels, rental cars, vacation packages/experiences. There is no limit on the number of miles you can earn and your miles don't expire as long as your account is active within a 2 year period, so you don't have to worry too much about your points being wasted. With an APR spanning from 13.24% to 23.24%, this card's interest rate is fairly average in comparison with other credit options that provide similar rewards (APR is subject to change). The card's annual fee is waived for the first year, but after that it will be $80. This is a fairly high annual fee so be sure to take advantage of this card's other benefits if you do end up applying for it and getting accepted. If you would like to apply today for the AeroMexico Visa Signature Credit Card, scroll down and follow our handy guide to completing an online application.
Before submitting your private information onto their website, review the US Bank privacy policy.
Requirements
To be eligible for this card, you must meet the following criteria:
Be at least 18 years of age
Be a legal resident of the United States
Have a SSN
How to Apply
Step 1 – To start an application for this card, go to the AeroMexico Visa Signature Credit Card webpage and click the Apply Now link.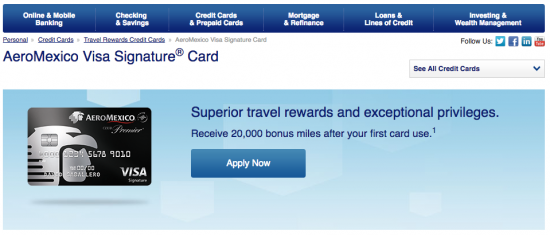 Step 2 – Now, indicate whether you are a Club Premier Member by selecting either Yes or No and provide all of the following information:
First name
Last name
Date of birth
SSN
Country of citizenship
Whether you are a citizen of another country
Country of permanent residence
Primary phone number
Mobile phone number
Email address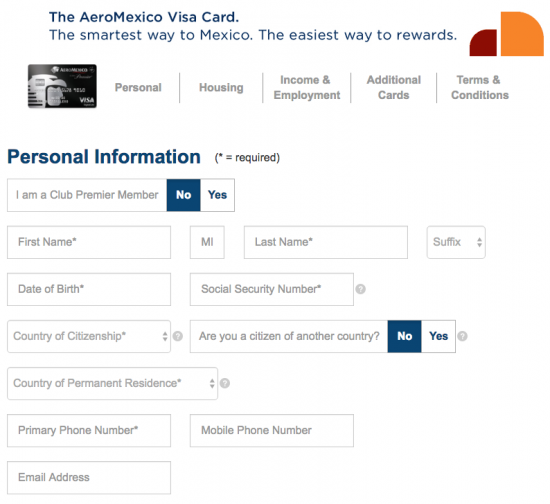 Step 3 – Next, enter all of the information listed below into the Housing Information section.
Street address
City
State
ZIP code
Time at address
Housing status
Monthly housing payment
Alternative mailing address (if applicable)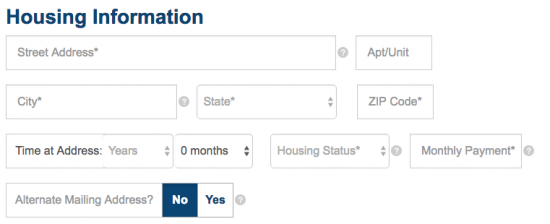 Step 4 – You will need to provide your Employment Status by selecting the appropriate option from the pull-down menu. Enter your Employer, your Occupation, your Annual Income, and any Other Income that you earn (if applicable) where indicated. Select either Yes or No to indicate whether or not you currently hold a checking or savings account and proceed to the next step.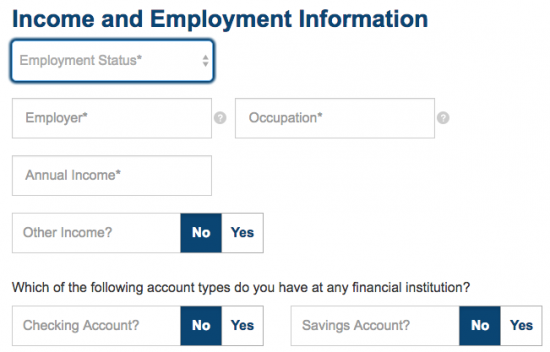 Step 5 – At this juncture, you have the options to perform Balance Transfers, add a Joint Applicant, and Add [an] Authorized User. Select Yes to use any of these options, otherwise skip ahead to the final step.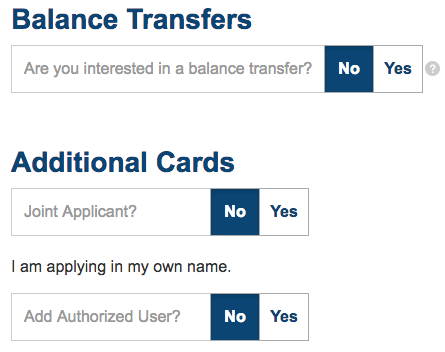 Step 6 – In this last step of the application process, we recommend that you look over your completed information to be sure that it has been submitted to your satisfaction. Next, read the terms and conditions for this credit card and indicate that you agree to the terms by clicking the little box below the disclaimer. When you are ready, click Submit.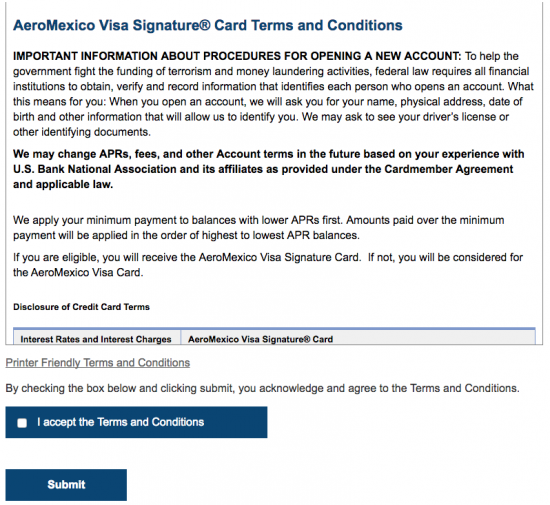 If you have successfully completed all of the above steps, your application for the AeroMexico Visa Signature Credit Card has been submitted to the U.S. Bank. Good luck and thank you for visiting Card Reviews.