Issued by Bank of America, the Asiana Airlines Visa Signature Credit Card is a must for frequent travellers of Asiana Airlines. The card allows users to earn bonus miles which can be put towards savings on flights, seat upgrades, baggage charges, lounge use, and more. Bonus miles will be awarded on a per dollar basis with 3 miles being awarded per $1 spent on Asiana Airlines purchases, 2 miles per $1 spent on gas and groceries, and 1 mile per $1 spent on all other purchases. As incentive, Bank of America will give you 30,000 bonus miles when you spend at least $3,000 within the first 90 days of account opening. The bonuses don't stop there as each year of card membership will provide you with 2 Asiana Airline lounge invitations, an automatic $100 rebate on ticket purchases, and 10,000 bonus miles. To top it all off, the interest rates are quite reasonable and you can expect your purchase APR to be set somewhere between 12.74% to 19.74%, depending on your creditworthiness (APR is subject to change). To apply for this credit card, scroll down to our guide below.
Be sure to review Bank of America's privacy policy before applying to make certain that you know how the personal information you supply online is going to be handled.
Requirements
To be eligible to receive an Asiana Airlines Visa Signature Credit Card, you must meet the following requirements:
Be at least 18 years of age
Have a valid Social Security Number
Have a valid US street address
How to Apply
Step 1- To start, navigate to the Asiana Airlines Visa Signature Credit Card summary page. The online form can be accessed by clicking on the Apply Now button.

Step 2- If you have an Asiana Club Member number, enter it in the first available field. Below that, provide your First name, Last name, Residential address line 1, City, State, and ZIP code.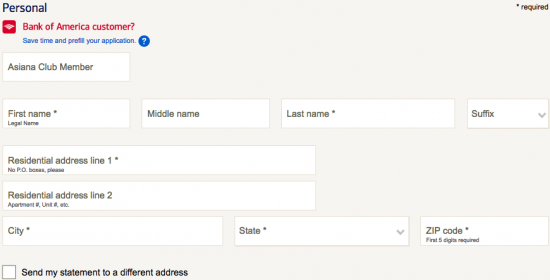 Step 3- Here you are asked to give your Primary phone number, Email address, Country of citizenship, Country of residence, and Date of birth.

Step 4- Use the drop-down menus to indicate your Employment status and Occupation. You will also need to supply your Total annual income, Source of income, and Monthly housing payment.
If you are currently a student, specify your student status and use the drop-down menu to indicate your Years in school.

Step 5- In the Additional options window, you may add a cardholder to your account. This individual will be able to make purchases with the card though you will still be the primary cardholder.

Step 6- All of your personal information has been supplied and you're almost finished! However, we recommend that before proceeding, you review the terms and conditions for this credit card to make sure that you're comfortable with the pricing information described within its contents. If you are indeed in compliance with the terms, check the small box found towards the bottom of the page to indicate this. Continue by clicking Review your information.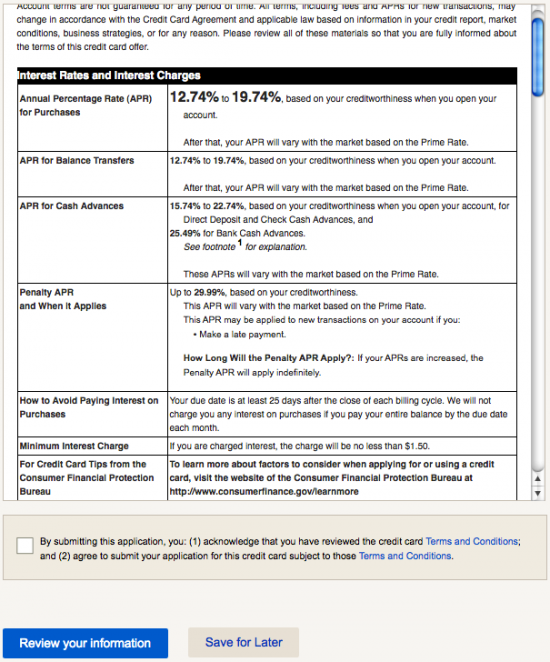 Step 7- This page provides you with a review of your submitted data. Check and see if all of your personal information was supplied correctly and, if it was, click Submit to have your card request sent in to Bank of America for assessment.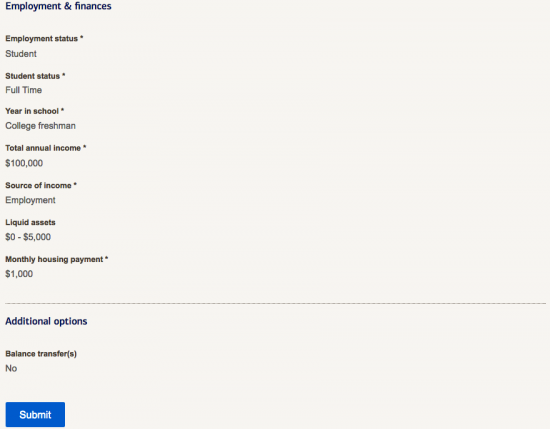 Your application has now been completed! Thank you for using our services today and best of luck with your new credit card.