Do you love to travel? The Alaska Airlines Visa Signature/Platinum Plus Credit Card, offered by Bank of America, gives you the opportunity to earn bonus airline miles to fund your next vacation while still maintaining an interest rate that competes with the other rewards cards on the market today. Based on your creditworthiness, you will receive either the Visa Signature or Visa Platinum Plus card. The Visa Signature card is definitely the better of the two as the potential miles earned from your purchases is greater and so are the bonus miles awarded in the introductory offer (30,000 compared to 5,000). The only downside to the Visa Signature card is the $75 annual fee, with the Visa Platinum Plus annual fee being only $50. Applying for the Alaska Airlines Visa Signature/Platinum Plus Credit Card is simple and the entire process has been outlined within our guide below. Get started by scrolling down.
Before commencing with your application, take a moment to review Bank of America's online privacy policy to see how your personal information will be used.
Requirements
To be eligible for the Alaska Airlines Visa Signature/Platinum Plus Credit Card, you must meet the following requirements:
Be at least 18 years of age
Be at least 21 years of age if you reside in Puerto Rico
Have a valid Social Security Number
Have a valid US address
How to Apply
Step 1- Visit the Alaska Airlines Visa Credit Card main page to begin the application process. This page outlines some of the various benefits of the card. When you're finished reading, click the green Apply Today button on the right side of the page.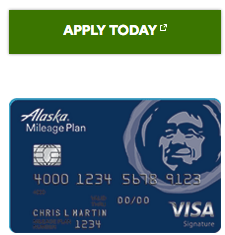 Step 2- Here on this page, Bank of America asks you to supply a number of personal details. The exact information that must be provided is as follows:
Mileage plan number (if any)
First name
Last name
Street address
City
State
Zip code
Specify if you'd like to receive bank statements at an alternate address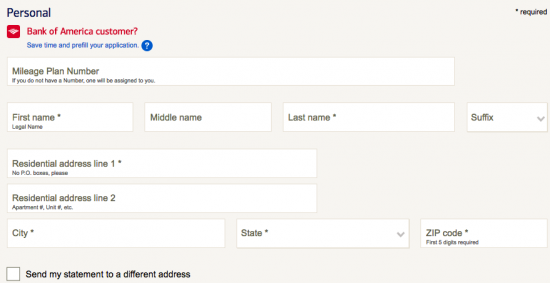 Step 3- Continue by supplying your Primary phone number and Email address. If you'd like to receive special offers and promotions from Bank of America, click the small box at the bottom of this segment.

Step 4- Here you are asked to provide some information regarding your Employment & finances. The required information is as follows:
Employment status
Occupation
Company name or employer
Years with employer
Total annual income
Source of income
Liquid assets
Housing status
Monthly housing payment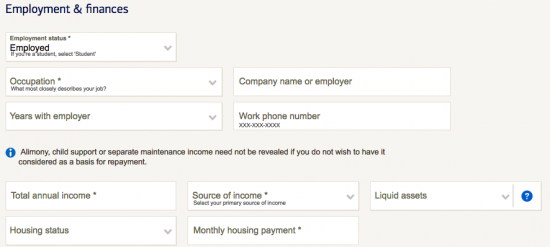 Step 5- The terms and conditions for this credit card are displayed at the bottom of the page. We encourage applicants to familiarize themselves with these terms as it is of the utmost importance to understand the billing structure, interest rates, and the other fine print details mentioned within this document. If you are in compliance with Bank of America's terms, check the box located below the terms to provide consent.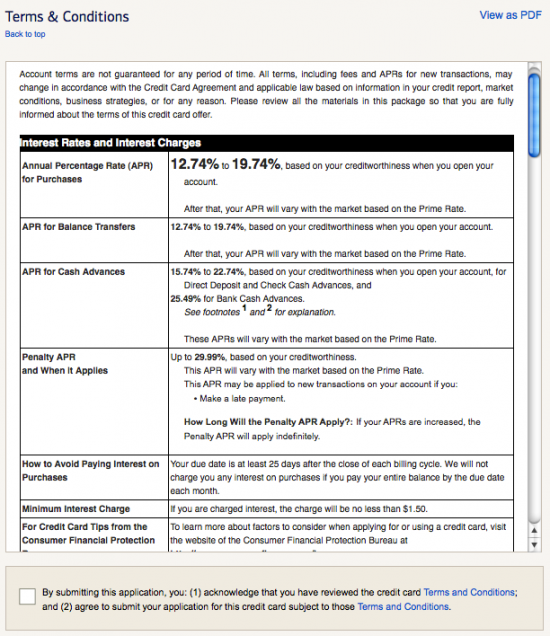 Step 6- This last page provides you with a full review of the information you've supplied in your application. Review the data and check it for accuracy before clicking Submit to send your card request in to Bank of America for assessment. Once submitted, you should receive a response within as little as 60 seconds confirming that your application was received.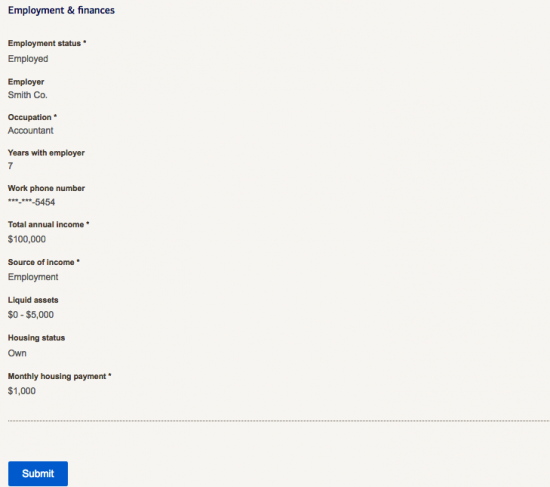 We hope that our tutorial was beneficial to you in your attempt to apply for this credit card. Thank you for choosing Card Reviews today and we would love for you to come back whenever credit card assistance is needed. Best of luck!