If you're looking for a new credit card with low interest rates and a wealth of bonuses, look no further than the PenFed Platinum Rewards Visa Signature Card. Right off the bat, this card has an APR of 10.24%-19.99% (depending on your creditworthiness) for all purchases and cash advances. An odd but welcome feature is the zero cost cash advance which is a fairly unusual perk as credit card companies normally charge a base fee on these types of transactions or demand fee based on a percentage of the amount. If you spend a lot of time driving, you are in luck as the rewards program will allow you to earn a whopping 5 points for every $1 spent at the pump. PenFed hasn't stopped there, they've provided an additional 3 points per $1 spent on groceries and 1 point for every $1 spent on all other purchases. As you can see, there is more than enough here to make the PenFed Platinum Rewards Visa Signature Card a worthy acquisition. To learn how to apply, scroll down to our tutorial below.
Review PenFed's privacy policy before submitting any sensitive information into their online portal.
Requirements
Make sure that you meet the following requirements before proceeding:
You are at least 18 years of age
You have a valid SSN
How to Apply
Step 1- Begin by navigating here to access the PenFed Platinum Rewards Visa Signature Card application page. There you will need to click Apply Now to proceed.
Step 2- PenFed would like to know if you are applying with a joint applicant (an additional card holder). Select Yes or No to provide a response and click Join Now to continue.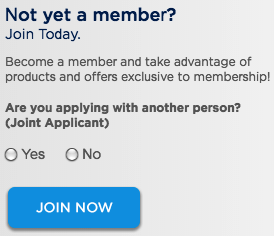 Step 3- This page will ask you to supply your First Name, Last Name, Birth Date, Email Address, and your Phone Number. Once entered, click Continue to proceed.

Step 4- Some information will be required here regarding your home address, residence status, mortgage/rent payment, and the amount of time you've lived at your home address. The exact data that's required is as follows:
Street address
Apt/Unit/Suite
Zip
City
State
Country
Residence status
Monthly mortgage or rent payment
Years at your home address
Months at your home address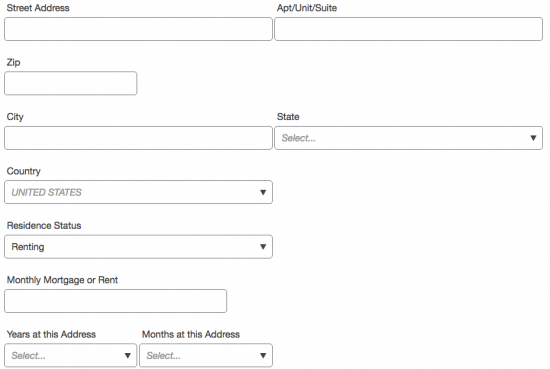 Step 5- Continue by indicating your Employment Status. If you're employed, you will need to specify the amount of Years Employed and Months Employed as well as your Employer/Business Name and Employer/Business Address (including Zip, City, State and County). At the bottom of this segment, provide your Gross Monthly Income and your Social Security Number.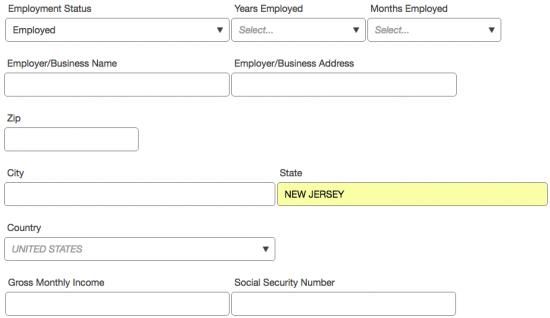 Step 6- If you have any additional income, select Yes and provide the total amount of your Other Monthly Income, your Source of Other Income, and lastly, your Total Monthly Accessible Income.

Step 7- Here you will need to read over the Credit Report Authorization and Credit Card Account Authorization terms and conditions as well as the summary of terms for this credit card. If you agree to PenFed's terms, check each of the I Agree boxes before proceeding.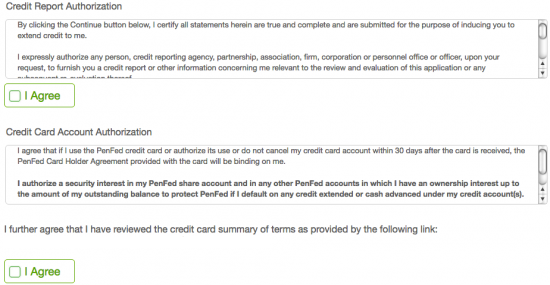 Step 8- Lastly, click Continue and your application will officially be submitted for reviewal by PenFed. This step marks the end of the application process.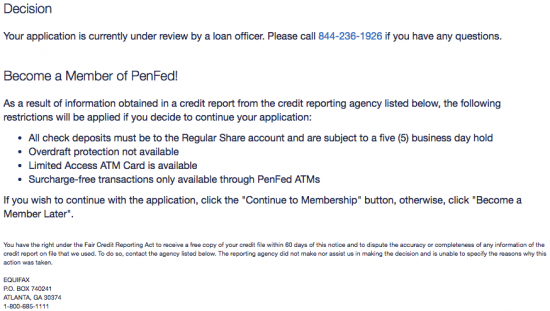 Way to go! You made it through our tutorial and you're one step closer to getting your new PenFed Platinum Rewards Visa Signature Card. Good luck and happy banking!