If you're an active member of the military, the Reserves, the National Guard, or if your an honorably discharged US military veteran, you should consider applying for the PenFed Defender Visa Signature Card. This credit option is one of the best cards available from the PenFed Credit Union and is only available to those that have chosen to protect this country. The APR for purchases and cash advances starts at the low rate of 10.24% and can go as high as 17.99% depending on your creditworthiness (APR is subject to change). There are absolutely no fees for this card and that includes cash advances, balances transfers, or foreign transactions. What sets this Visa apart from the other "no fee" credit options is the cash back rewards program which allows users to earn 1.5% back on, get this, all purchases! We highly recommend this credit card to anyone who meets the eligibility requirements due to the great interest rates and no added fees. Scroll down to our tutorial below to find out how you can apply.
Take a moment to review the privacy policy to get a full understanding of how PenFed will be using your personal information.
Requirements
To be eligible for this card, you must meet the following requirements:
You are at least 18 years of age
You have a valid SSN
You are an active member of the military, the Reserves, the National Guard, or an honorably discharged US military veteran
How to Apply
Step 1- Start by clicking here to access the PenFed Defender Visa Signature Card application page. There you will need to click on the green Apply Now tab to proceed.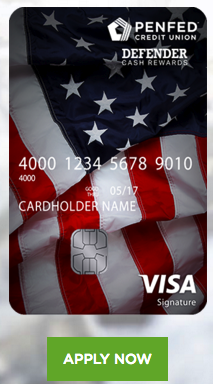 Step 2- Select Yes or No to let PenFed know if you are applying with a joint applicant. Once you've chosen an answer, click Join Now to proceed.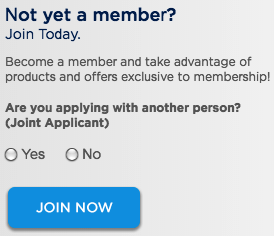 Step 3- Here you will need to indicate whether you are an Honorably discharged US Military Veteran, if you're Active in the US Military, if you're a Member of the National Guard, or if you're a Member of the Reserves. Click Continue after choosing one of the options.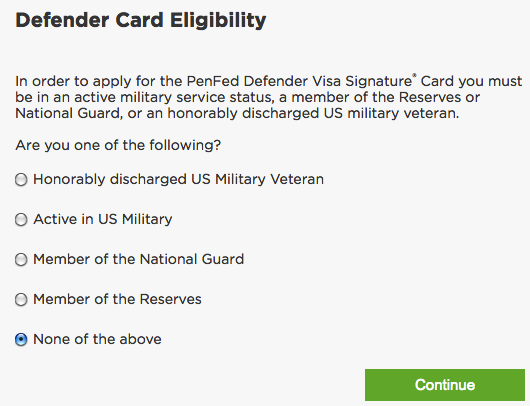 Step 4- Now you will need to supply your First Name, Last Name, Birth Date, Email Address, and your Phone Number. Proceed by clicking Continue.

Step 5- Here you will have to provide some personal information, including your home address, residence status, and your monthly mortgage/rent payment. The exact data that's required is as follows:
Street address
Apt/Unit/Suite
Zip
City
State
Country
Residence status
Monthly mortgage or rent payment
Years at your home address
Months at your home address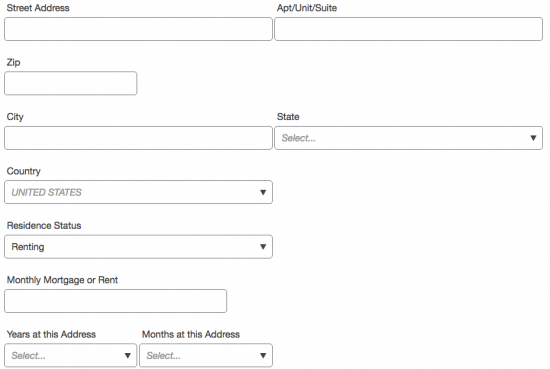 Step 6- Continue by specifying your Employment Status. If you are currently employed, you will need to indicate the amount of Years and Months Employed, your Employer/Business Name and Employer/Business Address (including the Zip, City, State and Country). Just below that, enter-in your Gross Monthly Income and your Social Security Number.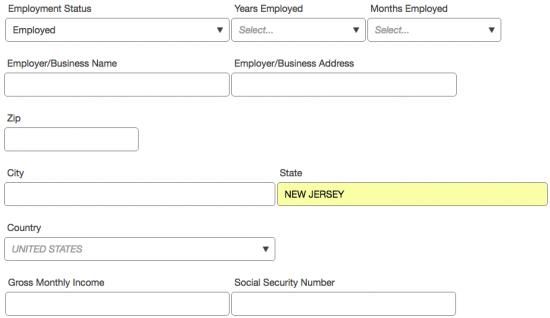 Step 7- If you have any additional income, select Yes and specify the total Other Monthly Income, the Source of Other Income, and the Total Monthly Accessible Income.

Step 8- Read over the terms and conditions for this credit card as well as the information provided in the Credit Report Authorization and Credit Card Account Authorization windows. If you are in compliance with PenFed's terms, check each of the I Agree boxes before proceeding.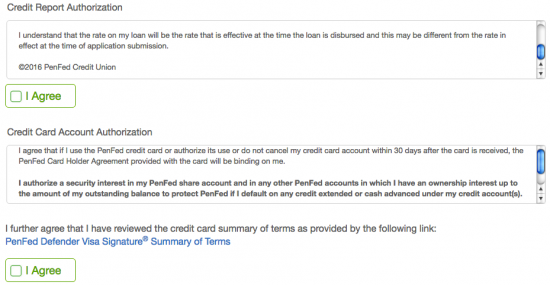 Step 9- By clicking Continue, you will officially be submitting your application to PenFed for reviewal and, in doing so, you will be complete the application process for this credit card.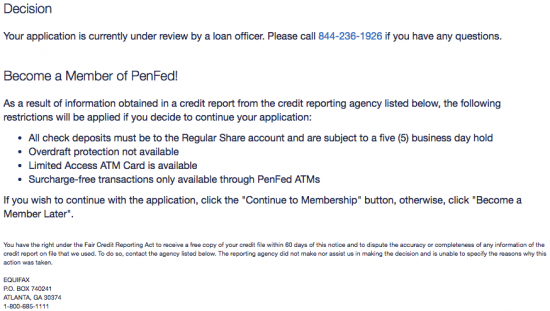 Congrats on making it through the application procedure for the PenFed Defender Visa Signature Card. We wish you the very best in all of your future banking endeavours. Take care!