The Air Force Federal Credit Union Credit Card is an ideal card for those who are employed by the U.S. Department of Defense, have recently retired from their position with the Department of Defense, or are related to someone who is employed or has been employed by the Department of Defense. There are strict requirements for the card, however if you are someone who meets the eligibility requirements, you will be able to benefit from the amazingly low interest rate and low fees.
Make a Payment
Cardholders who have activated their card can manage their credit card account online by directing themselves to This WebPage and entering the e-mail address and password to their account. Once logged in, the cardholder will have the opportunity to review previous statements, review any outstanding balances, manage their contact info, and make payments on any outstanding balances.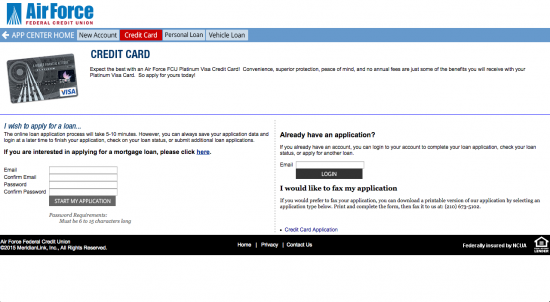 Activation
For cardholders that have recently received their card in the mail will need to activate their card before it can be used. Thankfully, the activation process is simple and easy.
To activate your card you must first ensure that you have the card in-hand as the card number and information present on the card will need to be inputted into the activation form. Once you have located your card, proceed to the Login Webpage and login using your associated e-mail and password. Once logged in, you will be given the opportunity to activate your card by clicking the "Activation" sub-section.