The Amazon Watch Credit Card which has been made available by Beneficial State Bank, provides an environmentally minded alternative to the credit options available at most major financial institutions. A percentage of every purchase will be put towards aiding Amazon Watch's mission to protect the ecosystems in Brazil, Peru, Colombia, and Ecuador. While this card certainly helps benefit our world and future generations to come, it can also benefit you with its point based rewards program (1 point earned for every $1 spent using the card). When you earn enough points, they can be redeemed and put towards your next flight, car rental, hotel stay, or on various forms of merchandise. An added bonus is the introductory 0% APR on all balance transfers for the first 6 billing cycles. After the introductory rate expires, your APR for balances transfers, and for net purchases, will be set somewhere between 10.24% and 20.24%, depending on your creditworthiness (APR is subject to change). The last thing we'll mention in regards to this card is that it comes at no cost; you won't need to pay an annual fee to maintain your account. You can find out how you can apply today by following the instructions found within our tutorial below. Scroll down to get started!
We recommend reviewing the TMC Bank privacy policy to get a full understanding of how your personal information will be used; TMC Bank is the financial institution which has issued this credit card.
Requirements
The following requirements must be met in order to be eligible for this card:
You are at least 18 years of age
You have a valid SSN
You reside in the United State or one of the approved US territories
How to Apply
Step 1- Access the Amazon Watch Credit Card application page by clicking here. Scroll down until you see an image like the one displayed below and select the Apply Online link to proceed.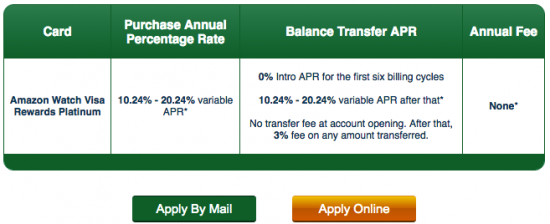 Step 2- Under the Application Information heading, use the drop-down menu to specify the Applicant Type. Click Next after making your selection.

Step 3- This page requires you to type in or use the drop-down menus to specify your Personal Information. The exact information that's required of you is as follows:
First name
Last name
Mother's maiden name
Email address
Verify email address
Primary phone number
Physical address
City
State
Zip
Years and months you've lived at your address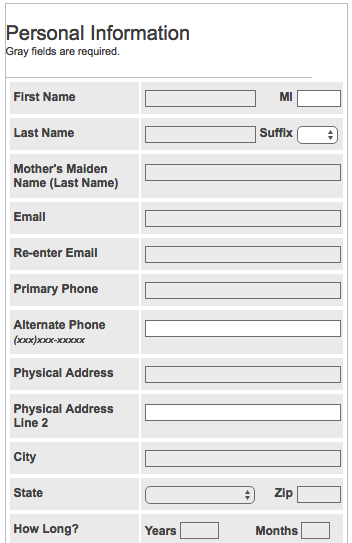 Step 4- If your mailing address is the same as your physical address, check the small box at the beginning of this segment. If not, enter-in your full mailing address. Continue by specifying your Preferred Method of Contact, Social Sec. No and Date Of Birth.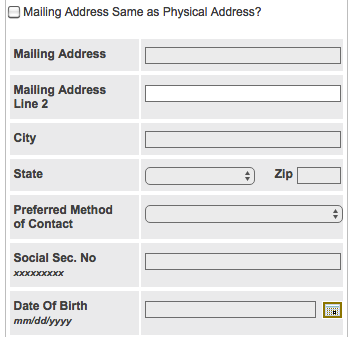 Step 5- If your current address has been your primary residence for less than two years, supply your previous address and the amount of time you lived there for.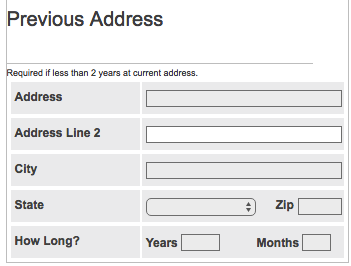 Step 6- Here, you are asked to provide the following Employment Information:
Employer name
Occupation
Title
Length of employment
Business address (street, city, state, zip)
Business phone number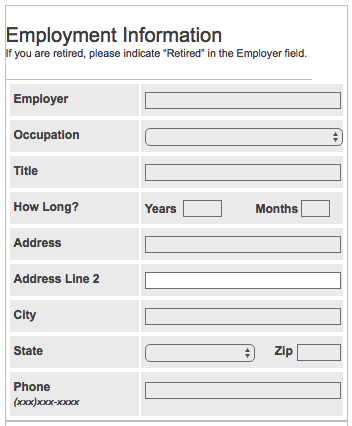 Step 7- If you've been employed at your current job for less than two years, provide the name and address of your previous employer.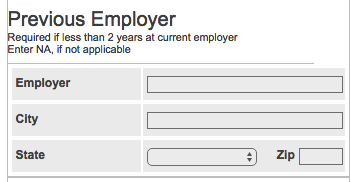 Step 8- Continue by supplying your Gross Monthly Income, Other Monthly Income Available to repay this debt (if any), and describe any Other Income that you have.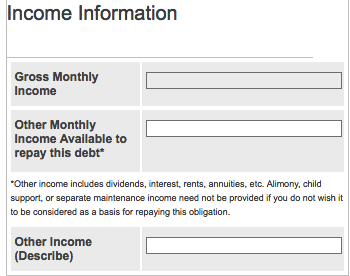 Step 9- Choose one of the options found under Housing Information to indicate your current living situation and enter-in your Monthly Payment. Click Next when you are ready to proceed.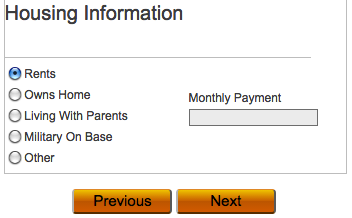 Step 10- This part of the application process enables you to add an authorized user to your account and/or consolidate your previous balances into one bill by performing a balance transfer.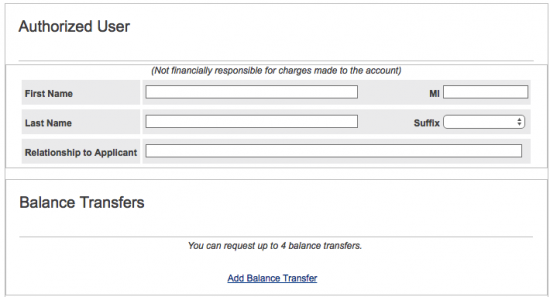 Step 11- Here, supply your bank Contact Name, Phone Number and Branch Location. Just below that, you can enter-in any questions or comments that you'd like to include with your application. At the bottom the this page, provide your bank Branch Number and CSRID before clicking Next to continue.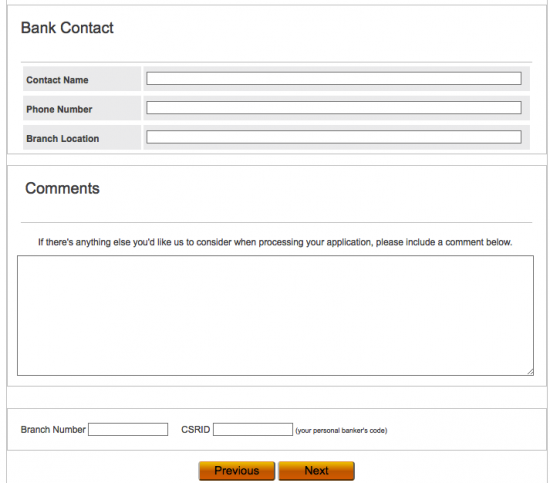 Step 12- At this juncture, we highly recommend reviewing the terms and conditions for this credit card. If you are in compliance with TCM Bank's terms, check the small box found under the Authorization heading.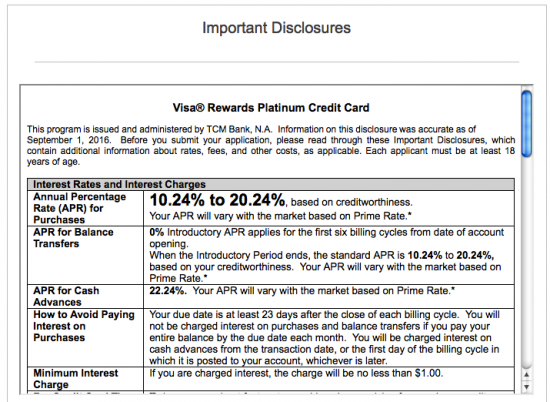 Step 13- Towards the bottom of your page, you should see three selectable links. Check the small box just above Print Disclosures to provide confirmation that you are able to electronically receive the disclosures associated with this credit card. When you are ready to finalize your application, click Submit to send your card request in to TCM Bank for assessment. Confirmation should arrive shortly acknowledging that the bank has indeed receive your application

Congrats on making it through the application procedure! We here at Card Reviews want to thank you for choosing us as your credit card expert and we wish you the best of luck with your new card. Take care!