The Animal Friends Visa Credit Card comes with the added bonus of being able to be managed to the fullest extent using the online banking portal available on the UMB website. By simply logging into an online account, users have the ability to pay bills, review statement history, update contact information, and request additional cards. If online banking is new to you and you'd like some help getting started, whether it be creating your account, logging into the online portal, or activating your card, simply follow the guides we have created for you, available below, to learn all about these procedures.
To make sure you understand exactly how your personal information is being treated, we recommend to all of our readers that they review the UMB privacy policy before continuing.
How to Login
What you must first do is navigate to the UMB homepage and locate the Login menu. Enter your User ID in the empty space provided and click Next to proceed. You will then be required to enter your password before access to your online account will be granted. If you have forgotten your login information, you can retrieve it by clicking the Forgot User ID? link and reading on to the paragraph below.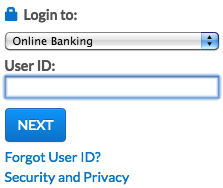 You will be required to re-enroll in a UMB online account in order to recover your forgotten login information. To begin this process, click the Next: Continue to re-enroll link.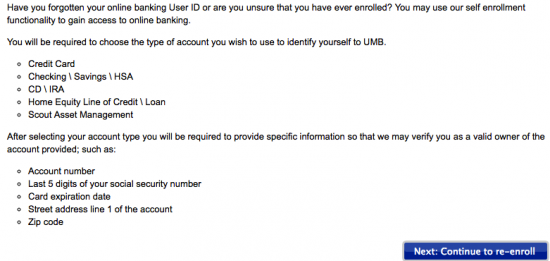 Next, use the drop-down menu to specify your account type, and then supply your card number, the Last five digits of your SSN, your card's Expiration date, and your Statement ZIP code. Click Verify your account after providing your card information. The remaining steps will have you providing some personal information and recreating your user ID, password, and any other security information they deem necessary. Once this process has been completed, ensure that you keep your login credentials safely stored for future login attempts.

Activation/Registration
Much like every other credit card on the market, users will need to activate their Animal Friends Visa Credit Card before it can be used to make purchases. Thankfully, the activation process is simple and can be accomplished by phoning UMB directly using the number provided above. You will need to get ahold of a customer service representative and follow their directions to activate your card. Once your card has been activated, you can begin the registration process for an online banking account by clicking on the Secure Registration link that can also found above this paragraph. On the registration webpage, provide the following information in the appropriate spaces:
Account type
Card number
Last 5 digits of your SSN
Expiration date
Statement zip code
Click the Verify your account link once your card information has been provided.

The next several pages are dedicated to the creation of your online account. You will need to provide some personal information as well as create your security and login credentials. Once you've completed the process, your account will be registered and ready to be used for all of your online banking needs. That's all for this tutorial, thanks for choosing Card Reviews and best of luck with your new account!