Apple Bank offers a credit card that allows cardholders to receive cash back every time they spend. The Apple Bank American Express Cash Back Credit Card is one of many types of AMEX cards out there, but not necessarily one of the better choices. This particular credit card has no annual fee attached to it but with an interest rate of 19.24%, you might not be saving that much money in the end (APR is subject to change). There are other American Express credit cards available that come with a considerably lower APR's. Although some of these other cards might charge an annual fee, they also come with much more enticing benefits. The Apple Bank American Express Cash Back Credit Card offers a simple rewards program of 1.5% cash back on all purchases, which is automatically redeemed every time you reach $25 in cash back rewards. Cardholders are offered a small bonus in form of a $50 statement credit that is earned once the user spends $500 within the first 3 billing cycles. If you're looking for a card with an excellent cash back rewards program and a reasonable APR, you might consider looking elsewhere. Those of you set on applying for the Apple Bank American Express Cash Back Credit Card, follow our tutorial below to apply for yours today.
Before submitting any personal or financial information, read through First Bankcard's (the card-issuing company) privacy policy to fully understand their terms of sharing.
Requirements
Note the following restrictions before applying for this card:
Applicants must be 18 years of age or older
Applicants must have a valid US address
Applicants must have a valid Social Security number
How to Apply
Step 1 – The first step is to reach the Apple Bank credit card page within the First Bankcard website. Locate the Apple Bank American Express Cash Back Credit Card from the list of credit cards and click Apply Now.

Step 2 – Now you can start filling out the application form, starting with the following personal information:
Name
Physical address
Home phone number
Email address

Step 3 – In order to confirm your identity, it's necessary to provide the following pieces of information:
Date of birth
Social Security number
Mother's maiden name

Step 4 – Next, you're required to present information on your current living situation. In order to continue, enter the following information into the appropriate fields:
Years at address
Housing status
Monthly housing payment

Step 5 – In order to gain a full understanding of your financial position, First Bankcard asks that you hand over the following information:
Present employer
Business phone number
Total annual income
Checking account balance
Savings account balance
Investment account balance

Step 6 – This step offers the chance to make a balance transfer or add another cardholder to the account. Both of these sections are optional, so skip this step if you wish to do so. To make a balance transfer, click the link within the Balance Transfer section and provide the necessary information. To add an Authorized User, enter the person's full name.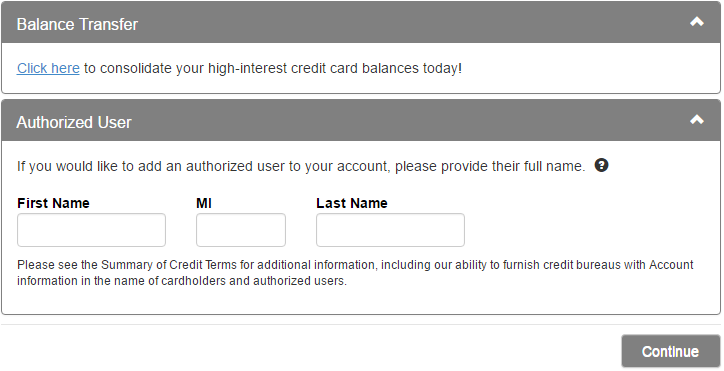 Make sure to read and agree to the terms and conditions before proceeding. Click Continue once you are satisfied with all the information you have just entered. Congratulations! You have successfully applied for the Apple Bank American Express Cash Back Credit Card. We hope your submission is approved. Best of luck!