The Art Van Signature Credit Card is a card suited for those planning on purchasing furniture and making home renovations. The card offers exclusive benefits and financing options, as well as access to pre-sale events. If you're interested in the potential savings found through the offers just mentioned, this card might be the right choice for you. Otherwise, we encourage you to steer clear of this credit option due to the ridiculously high purchase APR of 29.99% (APR is subject to change). It seems cards of this nature exist only to entice shoppers to make purchases they would normally be unable to afford. While that may feel a bit unethical to some, others may genuinely be interested in the card's savings and, if this is the case for yourself, scroll down to our tutorial below for a detailed look at the application procedure.
Before submitting any personal information online, take a moment to review the Synchrony Bank privacy policy. Synchrony Bank is the issuer of this credit card and their privacy policy will provide you with details on how your personal information will be handled.
Requirements
Individuals who are looking to start the application process must first ensure that they meet the criteria of eligibility. In order to be approved for the Art Van Signature Credit Card, you must:
Be at least 18 years of age
Have a valid Social Security Number
Have a valid US address
How to Apply
Step 1- Begin the application process by navigating to the Art Van Signature Credit Card summary page. From there, the online form used for this particular card request can be accessed by selecting the Apply Now link.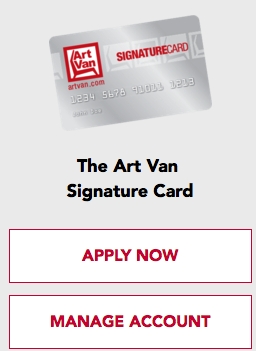 Step 2- The empty spaces available on this page, those highlighted with a red asterisk, must be filled in with your personal information. If you know the Initial Purchase Amount, enter that in the first field. Afterwards, the following details must be specified:
First name
Last name
Mailing address
Zip code
Primary phone number and type
Email address
Confirm email address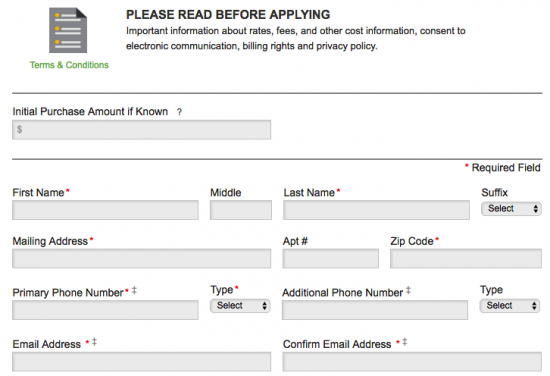 Step 3- Some additional information is required here. Please provide your Social Security Number/ITIN, Date of Birth, Housing Information (optional), and Monthly Net Income From All Sources.

Step 4- You have two different options when it comes to the delivery method of your bank statements; electronic or paper. Let Synchrony Bank know which delivery method you'd prefer by selecting either I want Electronic Statements or I want Paper Statements. Click Continue after making your selection.


Step 5- This last page provides you with a summary of the credit terms associated with the Art Van Signature Credit Card. After reviewing the terms, scroll down and select the Accept link to have your application sent in to Synchrony Bank for review. That's all there is to it!

We hope that this tutorial was beneficial in your attempt to apply for the Art Van Signature Credit Card. Thank you for choosing Card Reviews and best of luck with your new card!