For individuals looking for a new credit option, the Atlantic Stewardship Bank Bonus Rewards Plus Visa Credit Card has both a potentially low APR and variety of savings opportunities. Although it comes with a $50 annual fee, it has a decent rewards program and a $50 cash back bonus upon enrollment which more than accounts for the fee. Those worried about the possibility of making late payments will be happy to know that the card has an introductory 0% APR for the first 6 months, allowing a little bit of breathing room before having to settle an overdue balance. However, we always encourage our readers to make payments on time to continue the growth of their credit score. For a less expensive credit card (in the long run), the standard Bonus Rewards card comes with no annual fee and has the same interest rates as the Bonus Plus card. The only set back with the standard Bonus Rewards card is its slightly weaker rewards program. Should you decide to apply for the Atlantic Stewardship Bonus Rewards Plus Visa Credit Card, you will find our application tutorial below.
Make yourself familiar with the Elan Financial Services privacy policy before embarking on an application (EFS is the financial entity powering this credit card).
Requirements
All applicants must meet the criteria of eligibility listed below in order to apply.
Be at least eighteen (18) years of age
Have a valid US SSN
Have a valid US street address
How to Apply
Step 1- In order to access the online application, you must first navigate to the card summary page. From there, locate the Visa Bonus Rewards Plus Card and select the Apply Now link.

Step 2- With the online form accessed, start supplying your personal information in the fields highlighted with an asterisk. The exact info that's required is as follows:
Full name
Date of birth
SSN

Step 3- Continue supplying your personal details by specifying the following:
Country of citizenship
Are you a citizen of another country? (y/n)
Primary phone number
Mobile phone number (optional)
Email address (optional)

Step 4- Under the Housing Information heading, enter your Street Address, City, State, and Zip Code. Next, indicate your Time at Address, Monthly Housing Status, and enter your Monthly Payment. You may also select Yes if you have an alternate mailing address.

Step 5- Select one of the options in the drop-down menu found under the Income and Employment Information heading to indicate your Employment Status. Below that, enter your Employer name, Occupation title, Primary Annual Income, and select Yes if you have an additional income source.

Step 6- Each account that you currently have open with Atlantic Stewardship Bank must be specified by selecting Yes in the fields that apply

Step 7- Here, you can consolidate your previous credit card balances into one single bill by performing a balance transfer. You may also take this opportunity to add a joint applicant and/or an authorized user.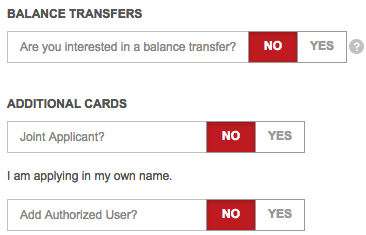 Step 8- At the bottom of the page, the terms and conditions window can be seen. Read through the terms to ensure that you're comfortable with the rates and fees you will be receiving. To provide consent to the terms, check the I accept the Terms and Conditions box found in the red field. Finally, click on the Submit button to send your card request in to EFS for assessment, thus completing your application and this Card Reviews tutorial. We hope that your application is a successful one and we wish you the best of luck in all of your future banking endeavors. Take care!