Individuals looking for a high-powered business credit solution through Atlantic Stewardship Bank (ASB) will likely turn to the Business Bonus Rewards Plus Visa Credit Card. This card comes with a hefty annual fee of $95 which is balanced out by the potential savings earned through the rewards program. As a cardholder, you will receive points from your purchases with one point being awarded for every one dollar that you spend. ASB will further your earnings by giving an additional 50% point bonus at the end of each billing cycle, resulting in a total point earning of 1.5 points/dollar. The interest rates are fairly average, depending on your credit score, and you can expect your rate to land somewhere between 12.49% to 23.49% (APR is subject to change). Overall, this card isn't anything too special due to the high annual fee attached. However, if you can see yourself taking advantage of the rewards program, this might be the right choice for you and your business. To learn how to apply, scroll down to our application tutorial below
ASB has partnered with Elan Financial Services (EFS) to bring you this credit card. To ensure that your personal information is properly handled by EFS, review their privacy policy.
Requirements
In order to successfully apply, all applicants must:
Be at least eighteen (18) years of age
Have a valid US SSN
Have a valid US street address
How to Apply
Step 1- The secure application, available from the EFS card summary page, can be accessed by simply selecting the Apply Now link found under the card heading.

Step 2- All of your personal and business information will need to be provided on this page. Starting with your Business Information, please supply the following:
Business name on card
Name of business
Business Tax ID
Business address
Alternate mailing address (if any)
Years at address
Year business started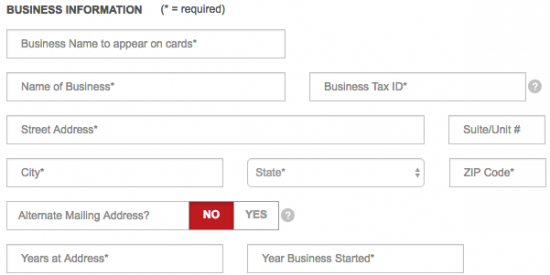 Step 3- Continue supplying your business details by entering the following information in the appropriate spaces:
Business phone number
Gross annual sales
Legal structure
Nature of business
Type of industry
Country of formation
Number of countries with offices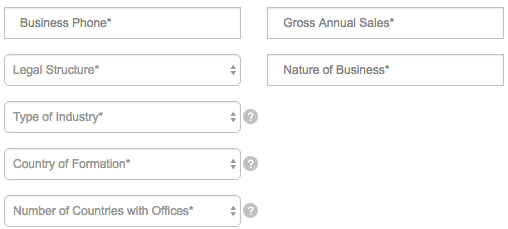 Step 4- Here you can specify whether or not you'd like Cash Access. Cash Access allows cardholders to access convenience checks and make cash advances at ATMs, branches, and other mediums.

Step 5- EFS would like to know if you currently have any accounts open with Atlantic Stewardship Bank. If you do, select Yes in the fields that apply.

Step 6- Use the drop-down menu and select your Business Owner Type. Below that, provide your First Name, Last Name, Social Security Number, Date of Birth, Phone Number, and Email Address (optional).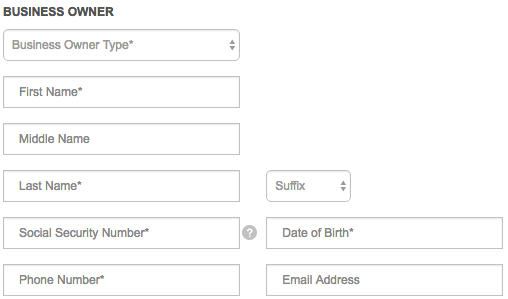 Step 7- Next, enter your full address and specify whether or not you have an Alternate Mailing Address. Continue by typing in your Annual Income, Ownership Percentage and, optionally, select Yes if you are a politically exposed individual.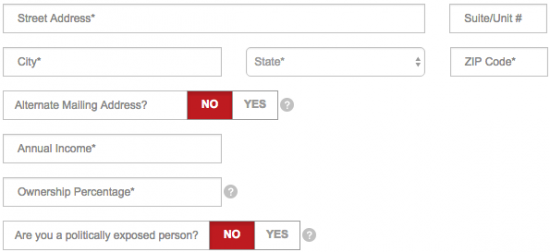 Step 8- At this juncture, you can optionally perform a balance transfer to consolidate any previous cards balances you might have into one single bill. You may also add a beneficial owner to your account and/or create additional cards for your employees.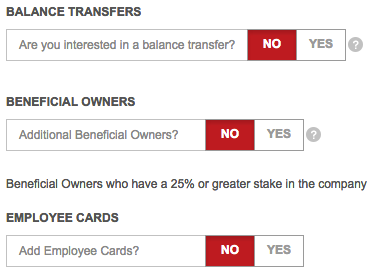 Step 9- Scroll down until you've found the terms and conditions for this particular credit card. We recommend reviewing this document over throughly to get a full understanding of exactly what it is you are applying for. If you have decided that the terms are to your liking, check the box found next to I accept the Terms and Conditions. Now, to finalize your card request, click the Submit button and your application will be sent in to EFS for review.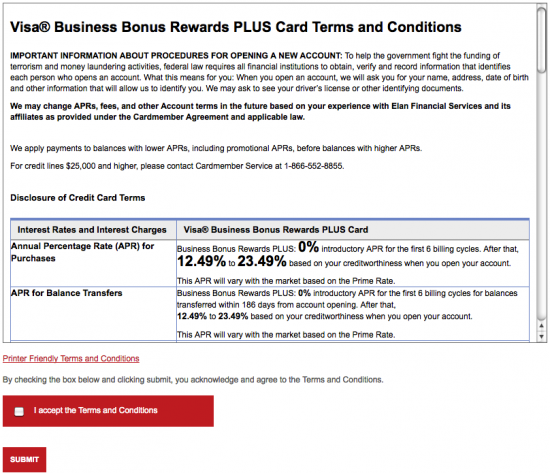 You have just completed the application process for the Atlantic Stewardship Bank Business Bonus Rewards Plus Visa Credit Card! From our team here at Card Reviews, we would like to thank you for your support and we wish you the best of luck with your new credit card.