Businesses interested in acquiring a new credit option may find Atlantic Stewardship Bank's (ASB) Business Bonus Rewards Visa Credit Card to be a viable option. The card comes at no cost to the business (no annual fee) and has a rewards program that is only slightly worse than the one offered through ASB's more expensive Bonus Plus credit card. The main difference between the two is the amount of points accrued at the end of each billing cycle. While the Bonus Plus card provides users with a 50% point bonus, the standard Bonus card only awards a bonus of 25% (resulting in 1.25 points/$1 spent compared to 1.5 points/$1 spent). If your business plans on utilizing the rewards program to the fullest extent, the Bonus Plus card might be more suited to your needs. On the other hand, if your necessity for a credit option is to just have something for minor purchases, the standard Bonus card could be a better option. To apply for this card, follow the process prescribed by Elan Financial Services (EFS), the company in charge of powering the card in question. For help in navigating the application, please scroll down to access our official application guide.
Applicants are encourage to read EFS' privacy policy as it states important details on how they will handle their applicant's personal information.
Requirements
All applicants must meet the following requirements:
Be at least eighteen (18) years of age
Have a valid US SSN
Have a valid US street address
How to Apply
Step 1- Start by navigating to this webpage and locate the Visa Business Bonus Rewards Card. The online application can be accessed by clicking on the Apply Now link.

Step 2- A number of important business details are required here. In the empty spaces highlighted with an asterisk, supply the following information:
Business name on card
Name of business
Business Tax ID
Business address
Alternate mailing address (if any)
Years at address
Year business started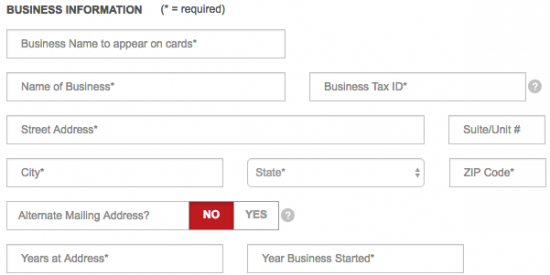 Step 3- To continue supplying your business details, specify the following information in the appropriate spaces:
Business phone number
Gross annual sales
Legal structure
Nature of business
Type of industry
Country of formation
Number of countries with offices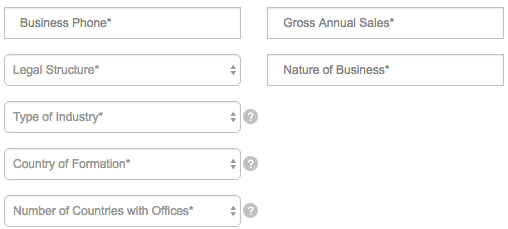 Step 4- Cash Access is a program that you can enroll in that will enable you to access convenience checks as well as make cash advances at bank branches, ATMs, or other mediums. Use the drop-down menu to indicate whether or not you would like to enroll in Cash Access.

Step 5- Here you can let EFS know which accounts you currently have open with Atlantic Stewardship Bank. Select Yes in the spaces that apply to provide an answer.

Step 6- This portion of the application process is dedicated to the submission of your personal information. First, specify your association with the business by selecting one of the options in the Business Owner Type drop-down menu. Just beneath that, enter your First Name, Last Name, Social Security Number, Date of Birth, Phone Number, and Email Address (optional).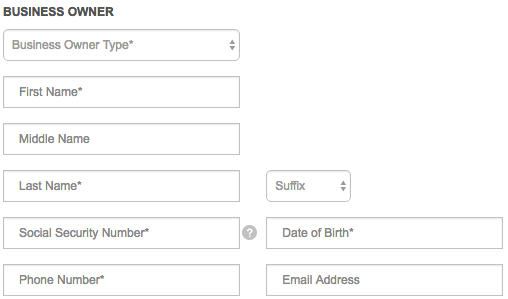 Step 7- Continue by providing your Street Address, City, State, Zip Code, and specify whether or not you have an alternate mailing address. You must also enter your Annual Income, Ownership Percentage, and select Yes if you are a politically exposed person.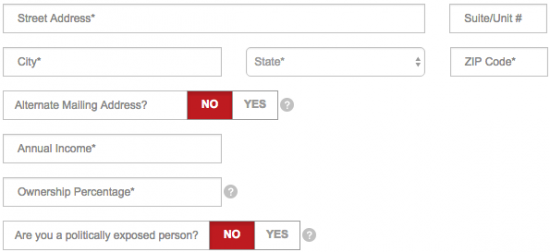 Step 8- If you'd like to consolidate your previous card balances into one bill, you can perform a balance transfer here. You may also take this opportunity to specify any additional beneficial owners and create employee credit cards.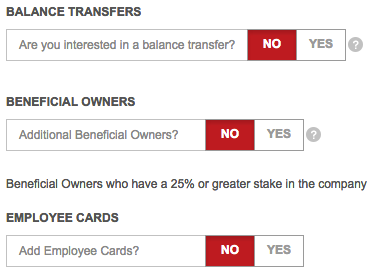 Step 9- Now that all of the requisite info has been given, review the terms and conditions to ensure that you are comfortable with the rates, fees, and other pricing details described in the document. If you consent to the terms, indicate this by checking the small box found next to I accept the Terms and Conditions. That's all there is to it! Now simply click the Submit button and your application will be sent to EFS for an official review.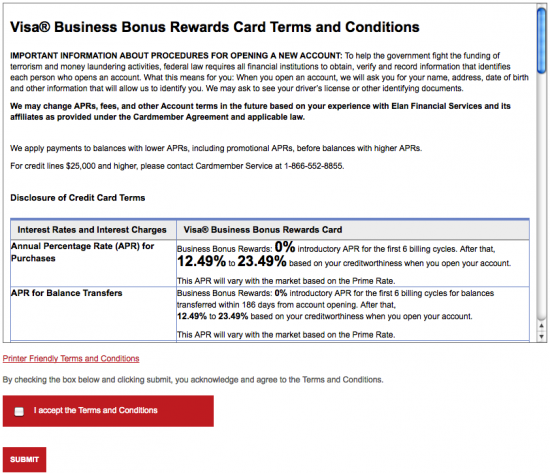 Give yourself a pat on the back as you have just completed the online application for the Atlantic Stewardship Bank Business Bonus Rewards Visa Credit Card. Card Reviews would like to thank you for supporting us and we wish you the best of luck in your future banking endeavors. Take care!