The Atlantic Stewardship Bank Bonus Rewards Visa Credit Card is one of many all purpose rewards cards currently available through Atlantic Stewardship Bank (ASB). What makes this card special, or at least slightly more attractive than the other cards, is its $0 annual fee and unique rewards program that grants cardholders an additional 25% point bonus at the end of each billing cycle. While ASB's Bonus Plus credit card offers an increased point bonus of 50%, that card also has a $50 annual fee which could offset your overall savings at the end of the year. The interest rates for the Bonus Rewards card are average and the rate you receive will land anywhere from 12.49% to 23.49%, depending on your credit score (APR is subject to change). What card you decide to apply for should be based on whether or not you can fully utilize the rewards program. If you plan on using the card as your primary payment option, the Bonus Plus card might be better suited to your needs as you can rack up a larger amount of points. Otherwise, the standard Bonus Rewards card would be the recommended choice. If you'd like to apply, review our application tutorial below.
ASB and Elan Financial Services (EFS) have partnered together to offer you this credit card. Since EFS will be handling your online application, we recommend reviewing their privacy policy before proceeding.
Requirements
To apply, all applicants must:
Be at least eighteen (18) years of age
Have a valid US SSN
Have a valid US street address
How to Apply
Step 1- Begin by navigating the the card summary page and find the Visa Bonus Rewards Card. Just below the card name, select the Apply Now link to proceed.

Step 2- Scroll down to the Personal Information heading and begin supplying the following information into the spaces provided:
Full name
Date of birth
SSN

Step 3- Continue providing the requisite personal information by specifying the following:
Country of citizenship
Are you a citizen of another country? (y/n)
Primary phone number
Mobile phone number (optional)
Email address (optional)

Step 4- For your Housing Information, type in your Street Address, City, State, and Zip Code. Use the drop-down menus to indicate your Time at Address, your Housing Status, and then enter your Monthly Payment. If you have an alternate mailing address, select Yes and give that address information.

Step 5- Use the drop-down menu under the Income and Employment Information heading to specify your Employment Status. Next, enter the name of your Employer, your Occupation, Primary Annual Income, and select Yes if you have an additional source of annual income.

Step 6- EFS would like to know which accounts, if any, you currently have open with Atlantic Stewardship Bank. Click Yes in the fields corresponding to the accounts currently open.

Step 7- Optionally, you may take this opportunity to perform a balance transfer resulting in the consolidation of your previous card balances into one bill. Just beneath that, you can add a joint application as well as an authorized user to your account.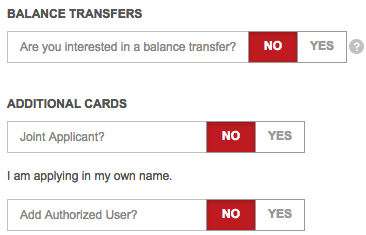 Step 8- Scroll down until you see the terms and conditions window. We recommend that you read through this document carefully to ensure that you're comfortable with the pricing information described within. Should the terms be to your liking, check the I accept the Terms and Conditions option found in the red box. Now, to finish your card request, click the Submit button and your application will be electronically delivered to EFS for review.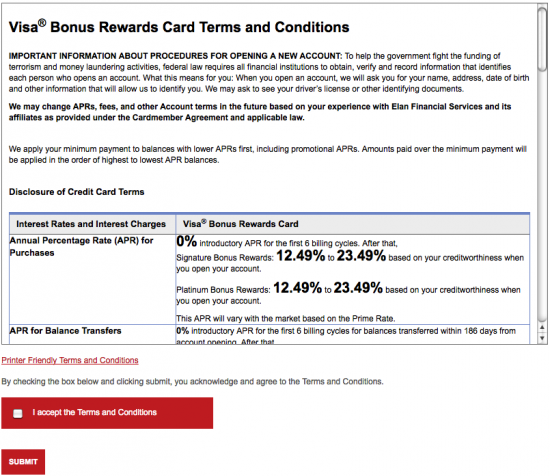 You made it through the online application! Give your self a high five, grab a glass of water and relax as the hard part it over. All you need to do now is sit back and await confirmation from Atlantic Stewardship Bank regarding the status of your application. We here at Card Reviews would like to thank you for your support and we wish you the best of luck with your new card.