Through reviewing dozens of credit cards, we here at Card Reviews have come to the conclusion that platinum cards are, in general, the best options available to most consumers, assuming they are of a good credit standing. Although the cards offer no rewards programs, they do always have impressively low APRs and, in the case of the Atlantic Stewardship Bank Platinum Visa Credit Card, no annual fee! As just mentioned, this card has no rewards program to provide cash back or savings of any kind. However, most available programs on the market today are gimmicky and simply award points that take what seems to be like an eternity to accumulate before any savings to the cardholder are given. So, if you're looking for a basic credit card with no frills and a low APR (assuming that your credit score is decent), look no further than the Atlantic Stewardship Bank Platinum Visa Credit Card. Follow the instructions below to apply.
It is recommended that you review the privacy policy of the card issuer to learn how your personal details are going to be handled. Since this card has been issued by Elan Financial Services (EFS), it is their privacy policy that will provide you with that information.
Requirements
Applicants must ensure that the following requirements have been met before moving forward:
Be at least eighteen (18) years of age
Have a valid US SSN
Have a valid US street address
How to Apply
Step 1- To begin, navigate to this webpage and locate the Visa Platinum Card. Select the Apply Now link found just below the card heading and you will be taken to the online application form.

Step 2- This page requires that you supply a variety of personal details in the fields highlighted with an asterisk. Start by giving your:
Full name
Date of birth
SSN

Step 3- Continue providing your personal information by specifying your:
Country of citizenship
Are you a citizen of another country? (y/n)
Primary phone number
Mobile phone number (optional)
Email address (optional)

Step 4- Enter your Street Address, City, State, and Zip Code. Use the drop-down menus to indicate your Time at Address, Monthly Housing Status, and enter in your Monthly Payment. If you have a separate mailing address that you would like to specify, select Yes and enter that address information.

Step 5- Using the drop-down menu under the Income and Employment Information heading, select your Employment Status from the list of options. Underneath that, enter your Employer name, Occupation, Primary Annual Income, and select Yes if you have any additional income.

Step 6- Each account that you currently have open with Atlantic Stewardship Bank must be mentioned here. Let EFS know which accounts are open by selecting Yes in the fields that apply.

Step 7- At this juncture, you may optionally consolidate your previous card balances into one bill by performing a balance transfer. You can also add a joint applicant and/or an authorized user to your account.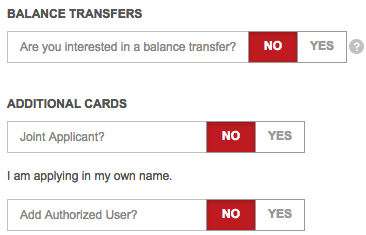 Step 8- At the bottom of the page, you should see the terms and conditions. The terms and conditions document contains important information about your that we encourage you to read over carefully before proceeding. If you agree with the terms, check the box found next to I accept the Terms and Conditions. When you're ready to finalize your card request, click Submit and your application will be sent in to EFS for assessment.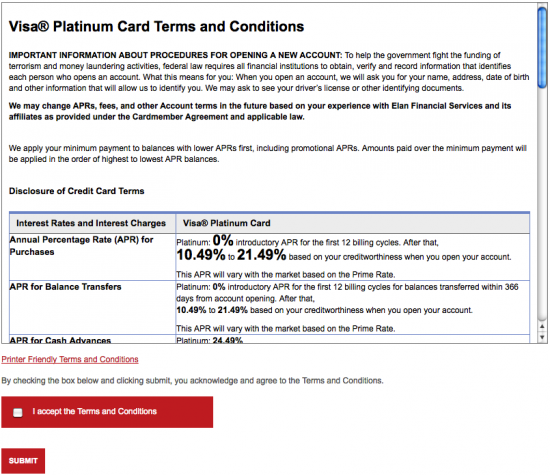 Thanks for letting our team here at Card Reviews guide you through the application process for the Atlantic Stewardship Bank Platinum Visa Credit Card. We wish you all the best!