Individuals who have recently acquired the Atlantic Stewardship Bank Business Bonus Rewards Plus Visa Credit Card may experience difficulties in setting up their online account due to the somewhat cumbersome registration process implemented by the card issuing Elan Financial Services (EFS). To help resolve some of these problems, we have created guides for the following processes: card activation, registration (account creation), and account access. Once fully set up, cardholders will be able to pay bills, view past statements, and more as they manage their card from the comfort of their home office or on the go with their mobile device.
Every facet of Atlantic Stewardship Bank's online card management is handled by a subsidiary, EFS, and thus it will be vital to read through their privacy policy before attempting to manage your new card online.
How to Login
In order to log in you will first have to go to the EFS homepage and enter your Personal ID in the login menu. Click Continue once entered and you will be taken to the following page.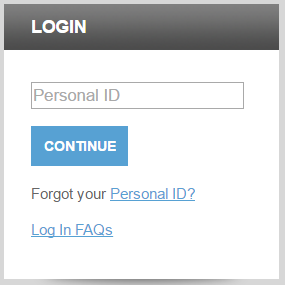 Type your Password in the provided field and click Login to gain entry to the EFS online banking portal. You may now manage your card using their financial management tools.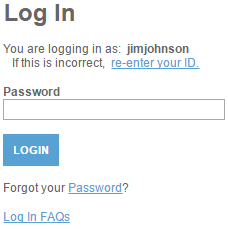 If you can't seem to remember your personal ID, the retrieval system can be accessed by clicking on the Forgot your Personal ID? link found below the login field on the main page. The retrieval system asks that you provide your Credit Card Account Number, Security Code, Last 4 digits of Social Security Number, and Zip Code to verify your identity. Click Submit after entering your information and follow the prompts found on the next page to retrieve your personal ID.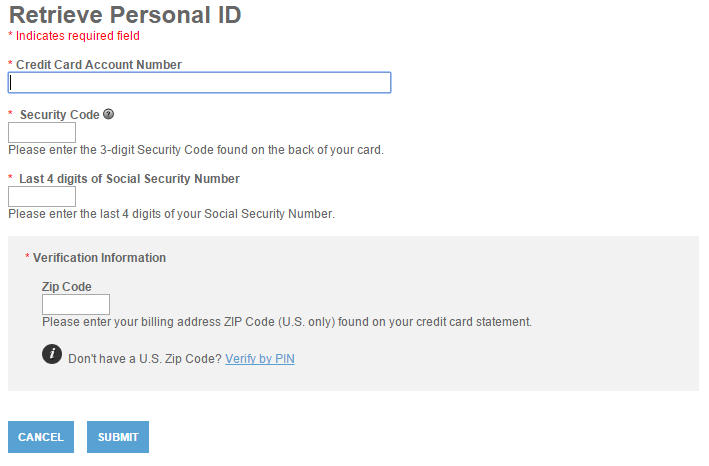 Individuals who have forgotten their password can reset it by completing a few simple tasks. First, click on the Forgot your Password? link found within the menu used to enter your password. You must then supply some personal information to provide identity verification. In the empty fields (pictured below), supply your Personal ID, Credit Card Account Number, Security Code, Last 4 digits of Social Security Number, and Zip Code. Just below that you can type your New Password in the two entry fields provided. Click Submit to finalize the process and your new password will officially be created.
Activation/Registration
Setting up your online banking account is only possible after you've activated your credit card. To activate your card, call the phone number posted above and follow the instructions provided over the phone. Now that the activation process is out of the way, navigate to this webpage to begin creating your online banking account. The pieces of personal identification listed below must be specified in the empty spaces found on the enrollment webpage.
Credit card account number
Security code
Last 4 digits of your SSN
Zip code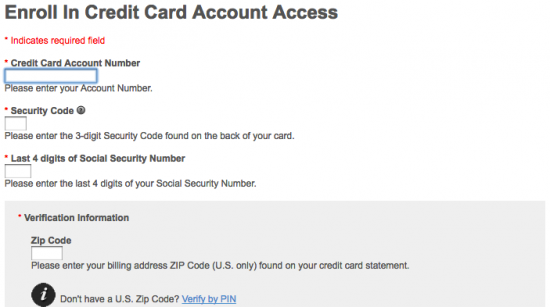 Choose a Personal ID and Password for your account and enter that information in the appropriate fields. You may also provide your Email Address in order to receive special offers and important information regarding your credit card. Click Submit when all is said and done and your online account will be registered and ready to go.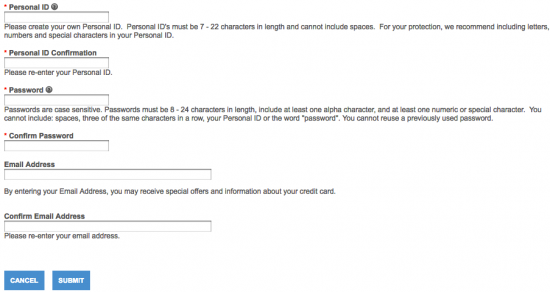 Congratulations on making it all the way through this tutorial! We hope that your experience wasn't too stressful and we wish you the best of luck with your new account.