Individuals looking to build credit have recourse in the Atlantic Stewardship Bank Secured Visa Credit Card, a card offering a steep APR but with the built-in architecture to ensure you don't miss payments and that your credit will be slowly restored. If you are unaware, a secured credit card works differently than your normal credit option in that the cardholder is required to supply a security deposit to be kept as collateral. The security deposit will dictate the credit limit for the card (minimum deposit of $300, maximum $5,000). Over time, the card will allow you to build a stronger credit rating as your status is noted by the various credit bureaus. Acquiring this card requires an annual fee of $35 which isn't a high price to pay for the restoration of a poor credit score. If you're interested in building your credit rating and you'd like to apply, scroll down to the application tutorial below.
This credit card has been issued by Elan Financial Services (EFS). All applicants would be wise to give their privacy policy a thorough read-through before embarking on an application.
Requirements
EFS has put forth the following requirements to be met by each and every applicant:
Be at least eighteen (18) years of age
Have a valid US SSN
Have a valid US street address
How to Apply
Step 1- To access the secure application, you must navigate to the ASB card summary page. Locate the Secure Visa Card and select the Apply Now link.

Step 2- The following page shows you two options by which you can apply for the card. Select the Get Started option found under the Apply Online heading.

Step 3- Now that you've navigated to the online application form, you may begin supplying EFS with your personal information. Note that you only need to provide information/answers in the fields highlighted with an asterisk. Start by supplying your:
Full name
Date of birth
SSN/Tax ID
Country of citizenship
Are you a citizen of another country? (y/n)
Country of permanent residence
Primary phone number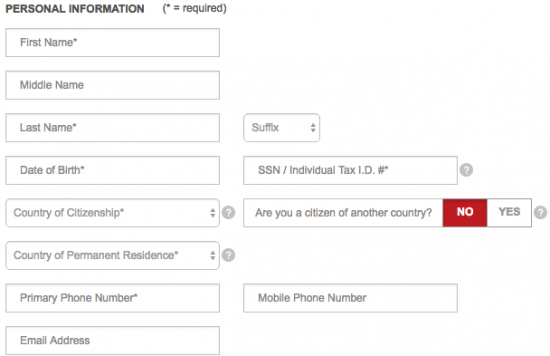 Step 4- Your housing information must be detailed here. Provide your Street Address, City, State, and Zip Code. Use the drop-down menus to indicate your Time at Address and Housing Status. Lastly, specify your Monthly Payment and select Yes if you have an alternate mailing address that you would like to disclose.

Step 5- Using the drop-down menu, choose the Employment Status that matches your current employment situation and enter your Employer name, Occupation, and Primary Annual Income. If you have any additional annual income, select Yes and enter that income information.

Step 6- Here you can let EFS know which accounts you currently have open with Atlantic Stewardship Bank (if any). Select Yes in each field that applies.

Step 7- A joint applicant may optionally be added here. To add a joint applicant, select Yes and give that individual's personal information. Underneath that, choose the account you'd like EFS to draw your security deposit from by selecting one of the options in the Funding Account Type menu. You must then provide the associated Account Number and Routing number.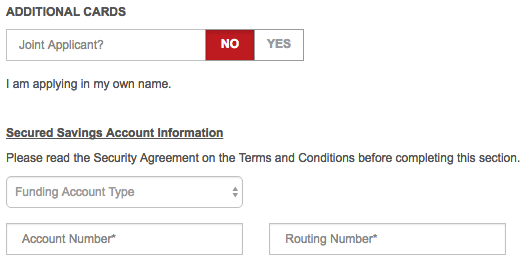 Step 8- In the Funding Amount entry field, type in the amount you'd like to set as your credit limit/the amount to be taken as a security deposit.

Step 9- Scroll down until you've reached the Certification Instructions. The small box found within this area must be selected to provide certification that your SSN/Tax ID number is accurate.
Step 10- The last step in the application process is the confirmation of the card's terms and conditions. Read this document over thoroughly to make certain that you are comfortable with the pricing information described within. If you are indeed in compliance with the terms, check the small box next to I accept the Terms and Conditions to provide consent. Finally, you can click the Submit when you're ready to have your application sent in to EFS for review.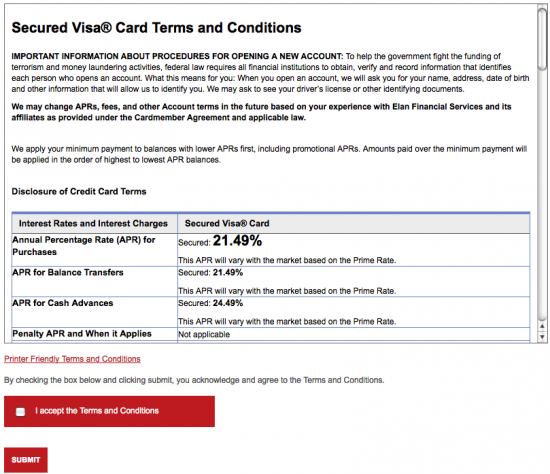 Congratulations on completing the online application for the Atlantic Stewardship Bank Secured Visa Credit Card! We hope that you found our tutorial helpful and we wish you the best of luck with your new card.