The Avianca LifeMiles Visa Credit Cards are offered by Visa and Avianca Airlines based out of Colombia. The cards offered are somewhat similar but differ in a few categories. All three cards offer a rewards program based on LifeMiles (points that you can redeem for flights) and feature a lowered rate for excess baggage fees.
The LifeMiles Visa Signature Card has the highest annual fee yet features the highest LifeMiles bonus rewards for renewal. The LifeMiles Visa Card is $45 a year. It features a 25% excess baggage credit. The LifeMiles Visa Secured Card is for those looking to build credit and features the lowest annual fee.
All cards feature a convenient to use online card management system online. This article explains how you can take advantage of that.
It is recommended that you view the Privacy Policy of Avianca LifeMiles before continuing.
How to Login
Logging in can allow a user to view their personal account status and make payments on their cards. You can also view your LifeMiles balance and view promotional offers.
In order to login, head to the link provided by the "Secure Login" button towards the top of this page. Next, enter your "Personal ID" and click the blue "Log In" button. For easier access on your next visit tick "Remember my ID".


Activation and Registration
For first-time users enrolment is necessary. Click the link above to get started.
On the next page, indicate whether it is a personal or business account you are trying to register.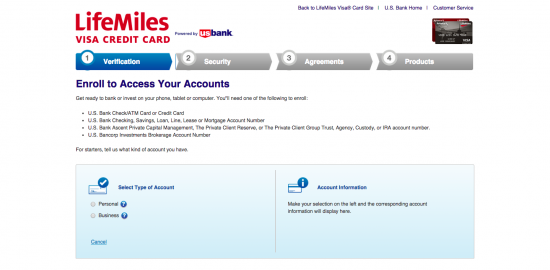 Next, say "yes" when asked if you have an account with U.S. Bank, the bank behind the Aviance LifeMiles program. Finally, enter the following details about yourself:
Your account number
Your credit card or ATM pin number
The last four digits of your social security number
After clicking "Continue", you will receive your Personal ID and you will from now on be able to login to your Avianca LifeMiles account from the regular login screen that you can learn about in the first portion of this article.