Bank of America (BoA) offers a variety of student-centric credit cards, the cash reward option being the Bank Americard Cash Rewards for Students Visa Credit Card (whew!). This card boasts good rewards potential and relatively competitive rates. For those interested in applying we at cardreviews.org have created an easy-to-follow application guide, just below, that will carry you through the process unscathed.
Give the BoA Privacy Policy a read before applying. It's important to understand how your sensitive personal information will be handled once you submit it to BoA.
Requirements
All applicants must meet the following requirements:
Be a student
Have a valid US street address
How to Apply
The secured application form is available from the BoA card summary page which details the nature of the rewards and fee-structure of the credit card. Select the blue apply now link to continue on to the secure application.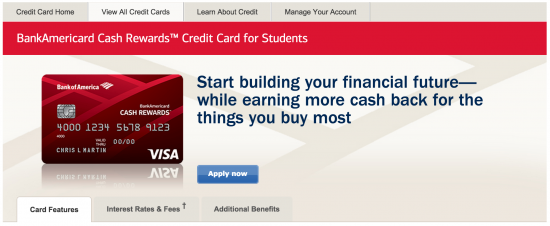 Step 1- Personal Information
Submit to BoA the following pieces of identification information:
Full name
Address
Phone number
Email address
Country of citizenship
Country of residence
Date of birth
Mother's maiden name
Step 2- Student and Financial Information
In order for BoA to evaluate your creditworthiness and thus determine the APR you will get sidled with they will need you to provide the following financial information:
Student status
Employment status
Years in school
Total annual income
Source of income
Liquid assets
Housing status
Monthly housing payment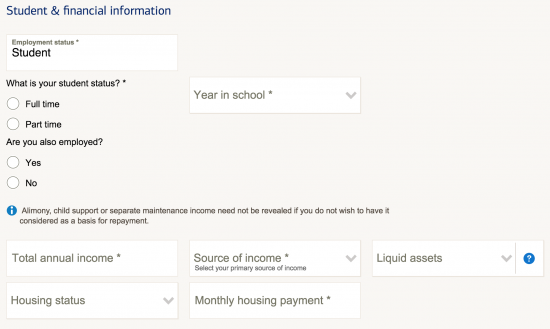 Step 3- Additional Options
BoA gives you the option towards the end of the application to perform a balance transfer or add a cardholder. If you would like to perform one or both of these actions do so now.

Step 4- Terms and Conditions
Give the terms and conditions a thoroughly reading to ensure that the terms are in sync with your current financial situation. If it all looks good simply select review your information to see your application in full before submitting it to BoA for evaluation.