If you're a college student that banks with Jeff Bank, you may want to consider applying for the Jeff Bank College Rewards Visa Card. This card is specifically catered to the college student, in that you must be a student to apply, and that you are probably more likely to have your application accepted than with most other premium cards. With this credit card, you could enjoy a standard rewards plan and earn one point for every dollar that you spent. You can redeem your accumulated points for gifts, cash bank or travel rewards. The creditor will also award you 1,000 after you make your first credit card purchase. There is no annual fee, so this card won't cost you anything if you don't use it, and the APR is reasonable for a first credit card. If you are interested in apply for the Jeff Bank College Rewards Visa Card, you can apply online at any time. We have provided a guide below on how to complete the online application. Scroll down and follow the instructions to apply.
Elan Financial Services (EFS) is the provider and creditor for this credit card. We recommend reading the EFS privacy policy before you continue.
Requirements
In order to be eligible for this credit card you must meet the following requirements:
Be at least 18 years of age
Have a valid US address
Have a valid SSN
Be a student
How to Apply
Step 1 – To get started, navigate to the Jeff Bank credit card webpage and locate the College Rewards Visa Card. Once you have found this option, click the Apply Now link in order to access an application.

Step 2 – At this juncture, you should be on the application form. Here, you can begin filling out your application by providing the following personal information into the indicated fields:
Full name
Date of birth
SSN or Tax ID #
Country of citizenship
Alternate country of citizenship
Country of permanent residence
Primary and mobile phone number
Email address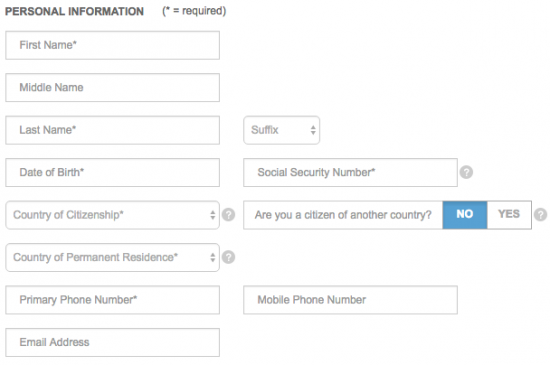 Step 4 – Next, you will have to provide the following details of your address(es) into the appropriate fields of the Housing Information section:
Street address
City
State
ZIP code
Time at address
Housing status
Monthly payment
Alternate mailing address (if applicable)
School residence address (if applicable)

Step 5 – In this step, EFS asks for you to enter all of the following financial information:
Employment status
Employer
Occupation
Annual income
Other income (if applicable)
Below that, select Yes beside each type of Jeff Bank account that you have (if applicable).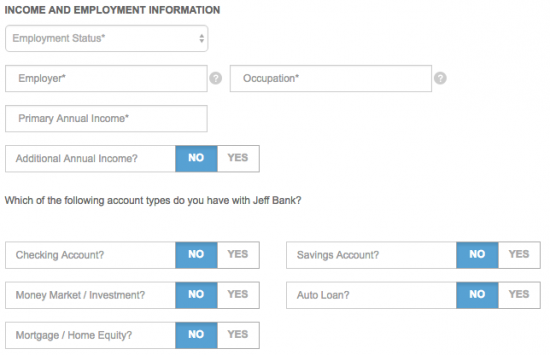 Step 6 -Here you can perform one or more Balance Transfers, to consolidate an existing credit card balance onto this account. If you would like to do this, select Yes and provide the requested information regarding your other credit card. Next, provide your Type of School and Expected Graduation Date by using the drop down menus in the Additional Information section.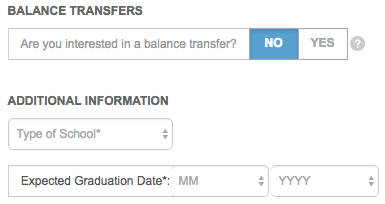 Step 7 – Now read over the terms and conditions for the Jeff Bank College Rewards Visa Card. After reading them, if you consent to the terms, click the checkbox marked I accept the Terms and Conditions. When you're ready, click Submit to submit your application for review by EFS.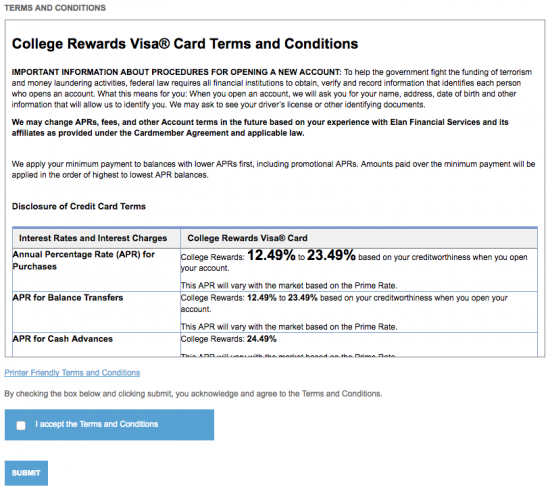 Excellent work! You have successfully submitted your completed application. We hope that you have found our guide to be both helpful and easy-to-follow. All the best!