If you're in market for a new travel rewards card, you may interested in checking out the Bank of Albuquerque Travel Rewards American Express Credit Card. The APR for this credit option is set for each successful applicant at an assigned rate between 12.49% to 23.49% (APR is subject to change). So, if you happen to have excellent credit, this could prove to be an option with an impressively low interest rate for you. However, the annual fee of $95 is expensive in a market where many rewards cards have no annual fee to speak of. In regards to the rewards program, for each dollar that you spend using this card you will earn 3 points on airline purchases, 2 points at hotels and restaurants, and 1 point everywhere else. To redeem airfare of up to $325, you will need to accumulate 25,000 points. This means that you will need to spend many thousands of dollars using this credit card to be able to take advantage of its travel rewards program. To help you get started accumulating points, Elan Financial Services (the credit card issuing company) will award you 7,500 bonus points after you make your first purchase. Cardholders also enjoy a 0.00% APR for the first 6 billing cycles as a further attractant for prospective customers. If you think that the Bank of Albuquerque Travel Rewards American Express Credit Card suits your current credit needs and personal budget, you can follow our below guide in which we detail the individual steps of completing an online application for this card.
Before you submit any sensitive information, we invite you to read through the Elan Financial Services (EFS) privacy policy.
Requirements
To apply for this credit card you will need to meet the following criteria:
Be 18 years of age or older
Have a valid US address
Have a valid SSN
How to Apply
Step 1 – Before you can access a secure online application for this credit card, you will need to navigate to the Bank of Albuquerque's credit card page and locate the Travel Rewards American Express Card option (see picture below). Once you have found this category, click the red Apply Now link to start an application.
Step 2 – The first section of the application is titled Personal Information. Here, you will be asked to provide the following information into the indicated spaces:
Full name
Date of birth
SSN
Country of citizenship
Country of permanent residence
Phone number (mobile phone number optional)
Email address (optional)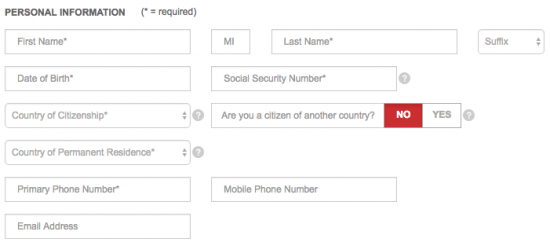 Step 3 – The second section for you to complete is the Housing Information section. Enter the information listed below into the appropriate fields.
Complete physical address (city, state, ZIP code)
Time at address
Housing status
Monthly payment
Alternate mailing address (if applicable)

Step 4 – In the Income and Employment Information section, you are required to supply the following information regarding your work and income:
Employment status
Employer
Occupation
Annual income
Other income (if applicable)

Step 5 – If you have any existing accounts or services with Bank of Albuquerque, select Yes next to the applicable account type that you have before continuing to the next step.

Step 6 – At this juncture, you are given the option to perform balance transfers from your existing credit cards (pending review), to add co-applicants, and to add authorized users. Beside any of these available options that you would like to take advantage of, click Yes and provide the requested information.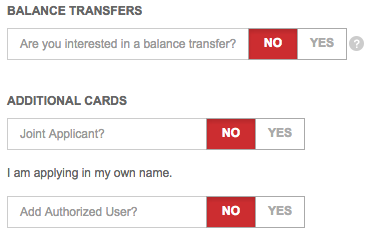 Step 7 – If you have correctly followed all of the steps detailed above, your application is almost ready to be submitted. First, we recommend that you look thoroughly through terms and conditions for this credit card. If you acquiesce to the terms that you have just read through, tick the box marked I accept the Terms and Conditions. When you are ready, click the Submit button to submit your application for review.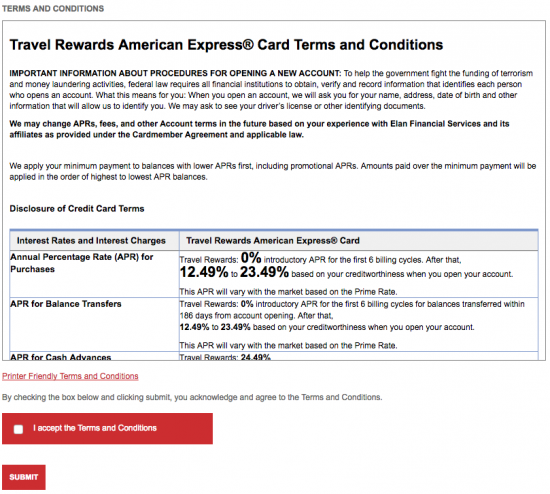 Congratulations on successfully completing and submitting your credit card application! We hope that our guide has been helpful and we thank you for using Card Reviews as your credit card expert. Good luck!