For people who don't want to fuss about with redeeming their credit card rewards points, getting a credit card with a cash back rewards program is a good idea. With cash back rewards, cardholders get their points redeemed automatically in the form of an account credit whenever they have accumulated enough points. The Bank of Albuquerque Cash Rewards American Express Credit Card comes with no annual fee and an assigned APR between 12.49% to 23.49%, which will be determined by the strength of your credit score going into the application (APR is subject to change). Cardholders accumulate points in three categories, earning 3 points per dollar spent on gas, 2 points for every dollar spent on groceries, and 1 point for every dollar spent on all other purchases. Successful applicants will get to enjoy an instant $25 cash back bonus after making their first purchase, and 0% APR for the first 6 billing cycles from the opening date of their account. Along with these bonuses, the astute cardholder can take advantage of the rewards program to earn a significant amount of cash back while responsibly spending using with their credit card. If you would like to apply for the Bank of Albuquerque Cash Rewards American Express Credit Card, follow the step-by-step tutorial that we have provided below. If you scroll down, you will find instruction on how to apply online from start to finish.
Before entering any personal or financial information into the application form, we recommend that you read through Elan Financial Services' (the card-issuer) privacy policy.
Requirements
Applicants for this credit card are required to meet the following requirements:
Be 18 years of age or older
Have a valid US address
Have a valid SSN
How to Apply
Step 1 – To begin, navigate to the Bank of Albuquerque by following this link and scroll down until you locate Cash Rewards American Express card. Once you have located this option, click the Apply Now link beneath the title to access the online application for this credit card.

Step 2 – Once on the application form, you can begin filling it out by providing the following information where indicated:
Full name
Date of birth
SSN
Country of citizenship
Country of permanent residence
Phone number (mobile phone number optional)
Email address (optional)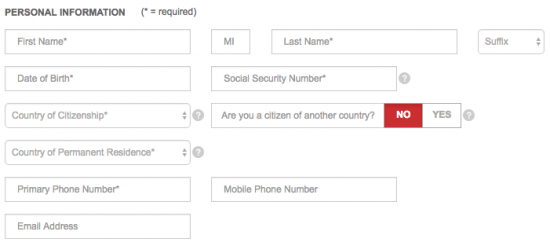 Step 3 – You will then be asked to supply the following details regarding your housing situation into the indicated fields:
Complete physical address (city, state, ZIP code)
Time at address
Housing status
Monthly payment
Alternate mailing address (if applicable)

Step 4 – At this juncture, you will need to enter the following information regarding your current employment and income:
Employment status
Employer
Occupation
Annual income
Other income (if applicable)

Step 5 – In this step of the application, clients of Bank of Albuquerque are asked to indicate which accounts and services they currently hold with the bank by selecting Yes beside each option that they have.

Step 6 – Next, if you wish to perform one or more balance transfers and/or you wish to add joint applicants/cardholders to this account, select Yes beside the option(s) that you would like to take advantage of. If you selected Yes to any of these options, you will need to enter the required information for each option before continuing.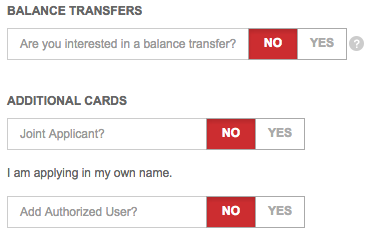 Step 7 – Now, read the terms and conditions for the Bank of Albuquerque Cash Rewards American Express Credit Card and agree to them by checking the little I accept the Terms and Conditions box at the bottom of the page. When you are ready, click Submit to finish the application process.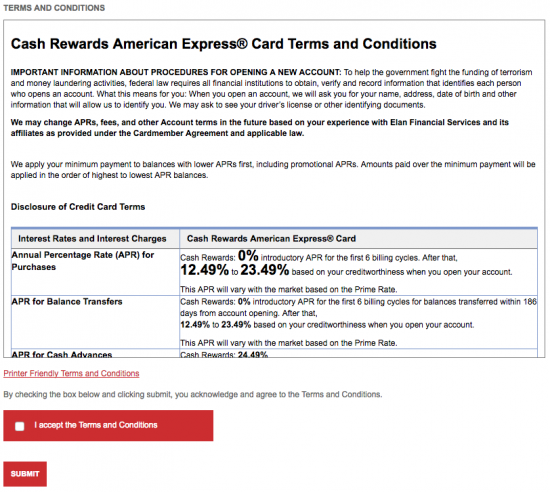 Your application is now finished and submitted for review. Now you can sit back and wait for a response from Elan Financial Services, which can take up to a business week. We wish you the best of luck and we thank you for visiting CardReviews.org.