If you're in the market for a new credit card, you might want to consider the Bank of Edwardsville Cash Rewards American Express Card. In case you're not familiar with cash back rewards, they offer statement credits in the place of rewards points, which means you automatically save a percentage on every purchase that you make when using a cash back rewards card. The rewards program for this credit option offers 3% cash back on gas (for the first $6,000 spent per annum), 2% cash back on supermarket purchases and 1% cash back on all other purchases. The APR for this card is based on your credit rating and will be assigned at a rate ranging from 12.49% to 23.49% (APR is subject to change). So, if you have a poor credit score and you know that you may not be able to be responsible paying your monthly balance, you may be better suited for a low-interest option or a secured option. If you are interested in applying for the Bank of Edwardsville Cash Rewards American Express Card, scroll down and follow our step-by-step application guide.
Before you continue, read through Elan Financial Services' (the card-issuer) privacy policy to inform yourself on how they will be using your personal information.
Requirements
To be eligible for this card you must meet the following criteria:
18 years of age or older
Have a valid U.S. address
Have a valid SSN
How to Apply
Step 1 – To begin the application process, navigate to the Edwardsville Bank credit card page. Scroll down to the Cash Rewards American Express Card option and click Apply Now.

Step 2 – Now you can begin filling out the application form. The first section requires you to enter the following information:
Full name
Date of birth
SSN
Country of citizenship
Country of permanent residence
Phone number
Email address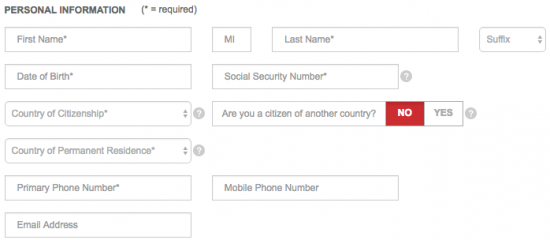 Step 3 – Next, you will be asked to provide the following information regarding your current housing situation:
Complete address (city, state, ZIP code)
Time at address
Housing status
Monthly payment
Alternate mailing address (if applicable)

Step 4 – At this juncture, you will need to provide the below employment and income information into the indicated fields:
Employment status
Employer
Occupation
Annual income
Other income
After completing the above information, indicate any accounts or services that you currently hold with Edwardsville Bank by selecting Yes next to each applicable field.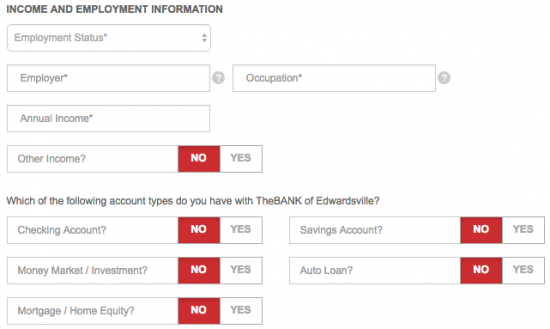 Step 5 – Here, you are given the opportunity to make a balance transfer and/or add additional cardholders to the account. If either of these options interest you, simply select Yes and enter the necessary information before continuing.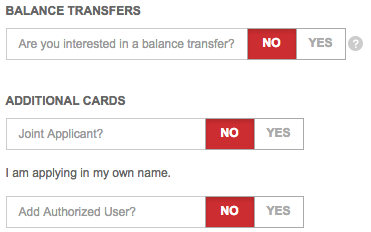 Step 6 – Before you tick the box next to I accept the Terms and Conditions, make sure that you have read through and understand the terms and conditions. When you are ready, and if you wish to proceed, tick the little box and click Submit to submit your application for the Bank of Edwardsville Cash Rewards American Express Card.
Congratulations! Your application is now complete and submitted for review. We wish you good luck with the result and we thank you for trusting Card Reviews as your credit card expert. All the best!