For those who want great cash back opportunities, the Berkshire Bank American Express Cash Rewards Credit Card is worth looking into. This credit card could be very convenient for people who frequently use their credit card to make gas and grocery store purchases. The rewards program awards users 3% cash back on gas purchases, 2% cash back on supermarket purchases, and 1% cash back on all other purchases. The number of points you can accumulate is unlimited and you have 5 years to redeem them as a cash deposit into a Berkshire Bank account or as a statement credit. The interest rate of this particular card is quite average, at the time of this writing it is at 12.49% to 23.49% (rates are subject to change). However, users will enjoy 0% interest for the first 6 billing cycles on purchases and balance transfers as well as a $0 annual fee. As an added bonus, new cardholders will earn $25 cash back after they make their first purchase. If the Berkshire Bank American Express Cash Rewards Credit Card has piqued your interest, follow our short tutorial below to apply for yours today.
Read through Elan Financial Services' (the card-issuing company) privacy policy before submitting any information into the application form.
Requirements
Make sure you meet the following requirements before applying for this card:
Applicants must be 18 years of age or older
Applicants must have a valid US address
Applicants must have a valid Social Security number
How to Apply
Step 1 – Navigate to the EFS Berkshire Bank credit card page and locate the Berkshire Bank American Express Cash Rewards Credit Card. Click Apply Now to continue to the application form.

Step 2 – The first section of the application form asks that you enter the following information into the indicated fields:
Full name
Date of birth
Social Security number
Country of citizenship
Country of permanent residence
Phone number
Email address (optional)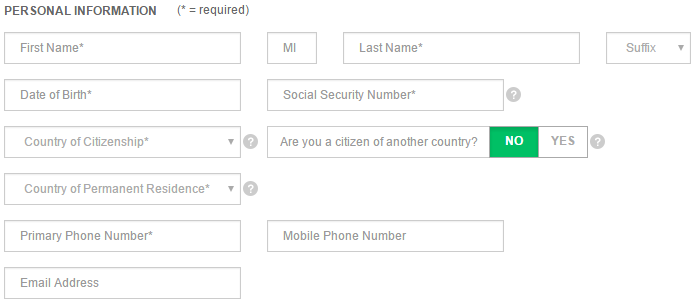 Step 3 – At this juncture, provide the following Housing Information:
Street address
City
State
Zip code
Time at address
Housing status
Monthly payment
Step 4 – Next, you are required to submit the following financial information:
Employment status
Employer
Occupation
Annual income
Any existing accounts with Berkshire Bank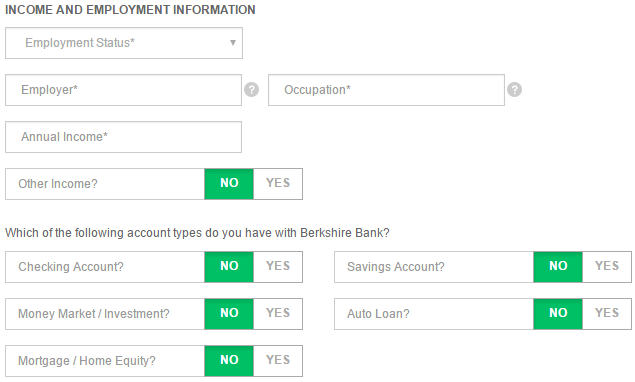 Step 5 – If you'd like to make a balance transfer, add an applicant to the account, or opt for additional cards, you may do so at this point in the process. Select YES next to the options that interest you and enter the necessary information for each one. It's important to note that joint applicant means that the designated person will share the responsibility of payments with you, whereas authorized users will receive a card and can make purchases, but will not be liable for payments.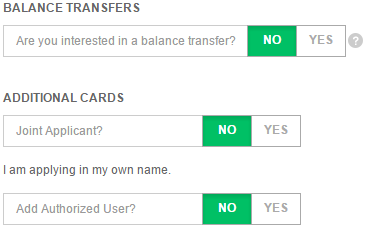 Step 6 – Finally, read through the terms and conditions. Tick the box at the bottom if you agree to them and click SUBMIT.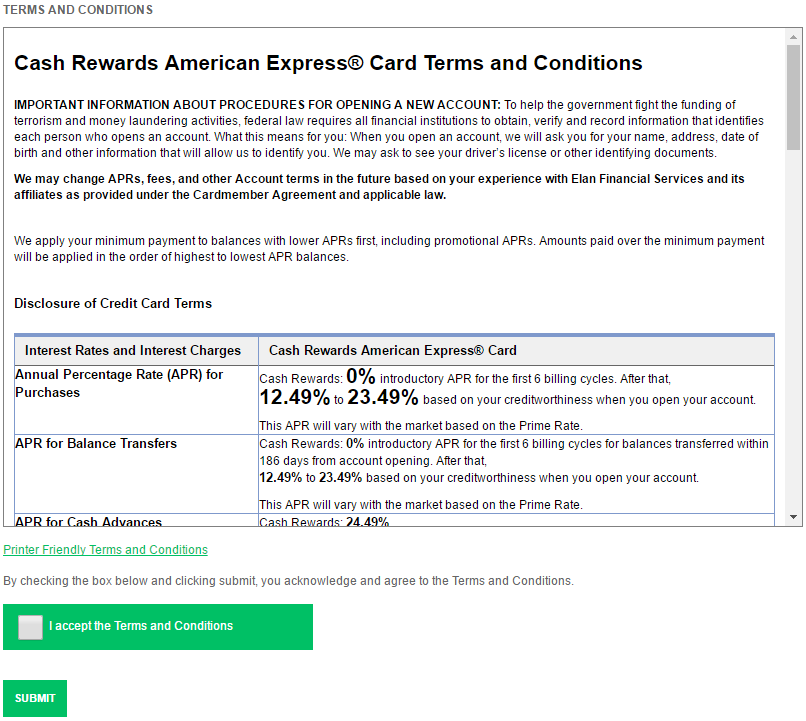 Congratulations! You have successfully applied for the Berkshire Bank American Express Cash Rewards Credit Card. We hope your application is successful. Best of luck!