If you are looking at acquiring a business credit card through Berkshire Bank, we can recommend the Berkshire Bank Visa Business Cash Card as an viable option. With an extensive cash back rewards program, this credit option makes it possible for you to save a percentage of every purchase. The cash back rewards are as follows: 3% cash back on office supplies, phone and internet purchases, 2% cash back on restaurant and gas purchases, and 1% on all other purchases. Your cash back can be received by statement credit, or, if you bank with Berkshire Bank, as a deposit into your banking account. The APR for this card is assigned at a rate ranging from 12.49% to 23.49%, depending on your credit worthiness (APR is subject to change), and there is no annual fee. If your application is accepted, you will receive $25 cash back after your first purchase and a 0% introductory APR for the first 6 billing cycles. If you are interested in applying for this card, scroll down and follow our guide below on how to complete the online application.
This credit card is issued by a third party, Elan Financial Services (EFS). Before you submit your application, we recommend that you first consult their online privacy policy.
Requirements
To be eligible for this credit card you have to meet the following requirements:
Be 18 years of age or older
Have a valid US address
Have a valid Social Security number
Have a valid business tax ID number
How to Apply
Step 1 – To begin the application process, you will first need to navigate to the Berkshire Bank business credit card suite page. Once there, locate the Visa Business Cash Card and click the Apply Now link beneath.

This pop-up window will appear to alert you of the fact that you will be redirected to the EFS website. Click Continue to proceed.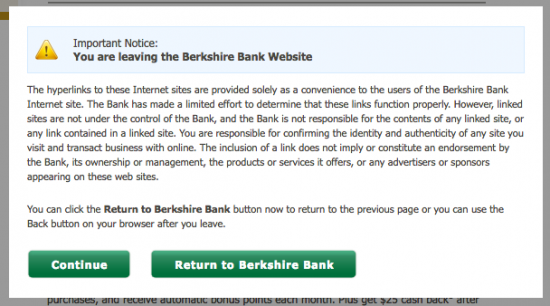 Step 2 – On the next page, once again, locate the Visa Business Cash Card and click the Apply Now link to start your application.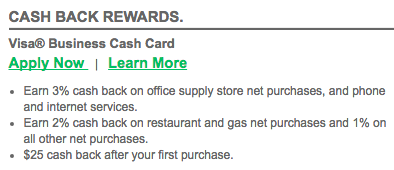 Step 3 – You can now begin filling out your application by providing the following information regarding your business:
Business name to appear on cards
Name of business
Business tax ID
Complete address (including suite #, city, state, and ZIP code)

Step 4 – Next, you will be asked to provide all of the below information into the indicated fields.
Years at address
Year business started
Business phone number
Gross annual sales
Legal structure
Nature of business

Step 5 – Now supply the following information by using the drop-down menus:
Type of industry
Country of formation
Number of countries with offices
Below that, you must use the drop down menu to indicate Yes or No as to whether you would like to enroll in the cash access program (this gives you easy access to convenience checks and cash advances).

Step 6 – If you are already banking with Berkshire Bank, select Yes next to each type of account and service you have with them and provide the necessary information before continuing to the next step.

Step 7 – You will be asked to provide the following personal information as the Business Owner:
Business owner type
Full name
SSN
Date of birth
Phone number
Email address
Complete address (including apartment #, city, state, and ZIP code)
Alternate mailing address (if applicable)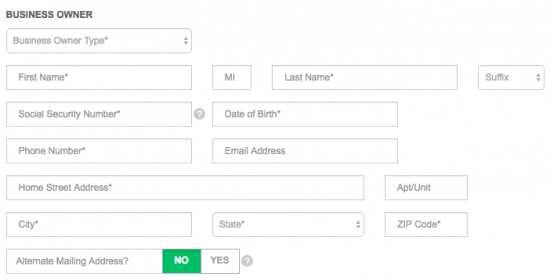 Step 8 – Now, to complete this section, provide the following information in the indicated fields:
Annual income
Ownership percentage
Whether you are a current or former political official or close to one (Y/N)

Step 9 – In this step, if you would like to make a balance transfer from an existing credit card to your new one, select Yes and enter the required information. Next, you can add additional cardholders to this account by clicking Yes beside Beneficial Owners (must have at least a 25% stake in the company) and/or Employee Cards. Provide the necessary information for each additional cardholder before you proceed to the next step.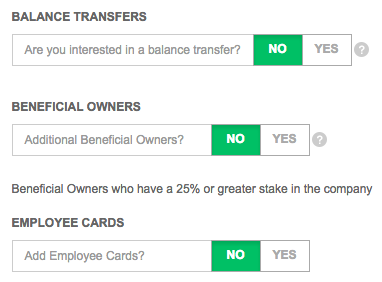 Step 10 – Read through the terms and conditions for this card and, if you accept them, tick the little box marked I accept the Terms and Conditions. When you are ready, click the Submit button at the bottom to submit your application for review.


Congratulations on completing and submitting your application! You can expect a response from EFS in up to 5 business days. We hope that you have found our guide to be helpful and we thank you for choosing Card Reviews as your credit card experts. Good luck!