If you are a business owner looking for a company credit card with a rewards program, you may be interested in the Berkshire Bank Visa Business Bonus Rewards or the Bonus Rewards Plus Card. Both cards have a credit score-based APR that will be set at a rate ranging from 12.49% to 23.49% (APR is subject to change) and a 0% introductory APR for the first 6 billing cycles. With the Bonus Rewards Card you will earn 1.25 points per dollar spent monthly and with the Bonus Rewards Plus Card you will earn 1.5 points per dollar spent monthly. This low rate of point accumulation, compounded with the lack of sign-up bonus points, necessitates that you spend many thousands of dollars before you can accumulate sufficient points for redemption to be made possible. Another difference between the two cards is that the Bonus Rewards Card awards you a $25 cash back bonus after your first purchase and the Bonus Rewards PLUS Card rewards you $50. As previously noted, the rewards program is by no means very competitive when compared with other credit options out there. However, if you are confident that you would like to apply for either of these credit cards, scroll down the page and follow our step-by-step guide on how to complete the online application.
Before you submit your application, we recommend that you review the card-issuer, Elan Financial Services' (EFS) online privacy policy to see how they might share your information.
Requirements
To be eligible for this credit card you have to meet the following criteria:
Be 18 years of age or older
Have a valid US address
Have a valid Social Security number
Have a valid business tax ID number
How to Apply
Step 1 – To begin the application process, navigate to the Berkshire Bank business credit card suite page. Scroll down to Earn valuable rewards and click the Apply Now link beneath the credit option that you wish to apply for to continue.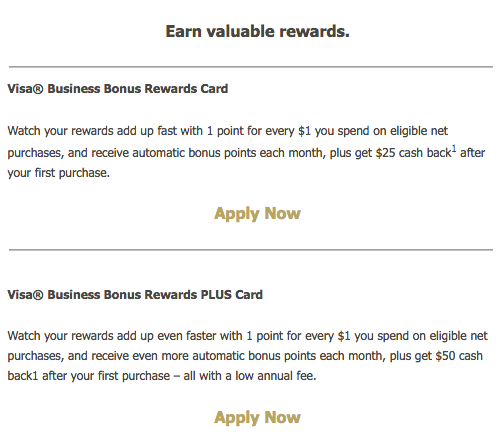 The window pictured below will pop up. Click the Continue button to proceed.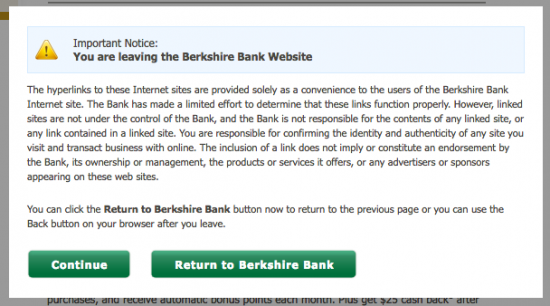 Step 2 – You should now be on the EFS-hosted Berkshire Bank credit card page. Scroll down to Business Credit Cards and click the Apply Now link below the credit card that you wish to apply for.

Step 3 – At this juncture, you should be on the application form. Begin by providing the below information into the Business Information section.
Business name to appear on cards
Name of business
Business tax ID
Complete address (including suite #, city, state, and ZIP code)

Step 4 – Now provide the following information in the indicated fields:
Years at address
Year business started
Business phone number
Gross annual sales
Legal structure
Nature of business

Step 5 – Next, by using the drop-down menus, provide the following additional business information:
Type of industry
Country of formation
Number of countries with offices
Then indicate Yes or No as to whether you would like to enroll in the cash access program by using the drop-down menu.

Step 6 – If you currently have any existing accounts with Berkshire Bank, you are asked to select Yes next to the accounts and services that you have with them. Provide the requested information where applicable.

Step 7 – In the Business Owner section of the application you will need to provide the following personal information:
Business owner type
Full name
SSN
Date of birth
Phone number
Email address
Complete address (including apartment #, city, state, and ZIP code)
Alternate mailing address (if applicable)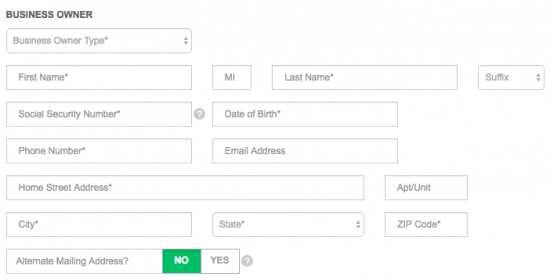 Step 8 – Now complete this section by supplying the following information:
Annual income
Ownership percentage
Whether you are a current or former political official or close to one (Y/N)

Step 9 – If you would like to perform a balance transfer or add additional cardholders, select Yes next to each option that you are interested in and provide the necessary information before continuing.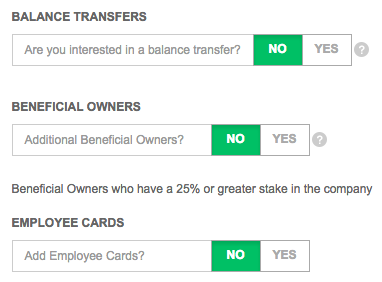 Step 10 – Last but not least, you will need to read through the terms and conditions to ensure that these conditions are agreeable to you. If you consent to the terms, tick the little box marked I accept the Terms and Conditions and click the Submit button to complete the application process.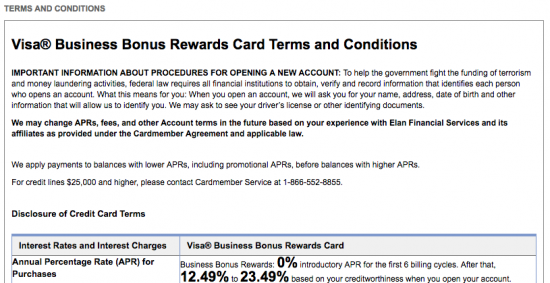 Congratulations! Your application is now submitted for review by EFS. We trust that your application will be successful and we thank you for visiting Card Reviews. All the best!