The British Airways Visa Signature Credit Card is an excellent card for individuals that are looking to accumulate reward points that can be exchanged for travel discounts with British Airways. While some may find the $95 annual fee to be a bit steep, the incredible return of reward points that is available with this card can easily offset the annual fee. If you spend anywhere from $2,000 to $20,000 on credit card purchases annually you will earn enough reward points that the $95 annual fee will seem negligible. The only thing we feel needs to be made clear about this card is that is has a high interest rate on cash advances at 24.99%. This is typically a red flag that we alert our readers to steer clear of, but in this case, we feel that a healthy management of one's credit can dissolve any possibility of risk and in conjunction with the great reward points earnings makes the British Airways Visa Signature Credit Card a card worth applying for. If you are interested in completing the online application process, simply scroll down the page and you will find a guide we have created for you that details everything you need to know about applying online.
Reviewing the online privacy policy is an important aspect of the application process. Doing so allows you, the reader/applicant, to understand how your personal information is going to be handled throughout the application process.
Requirements
In order for the application to be completed successfully the applicant must:
Be at least 18 years of age or older
Reside in the United States of America
Have a valid Social Security Number
How to Apply
Step 1: Navigate to the application homepage, pictured below.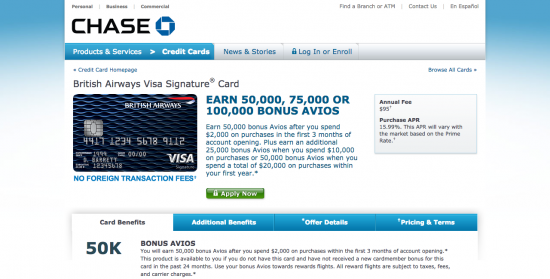 Step 2: Click the Apply Now link.

Step 3: Enter the following personal information in the blank space provided and then click the Next button:
First name
If your credit history is clear from bankruptcies
Mailing address
Zip code
City
State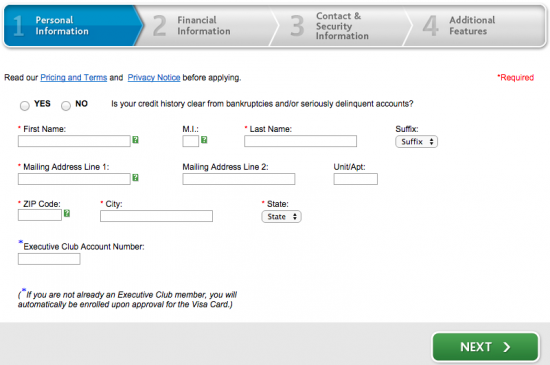 Step 4: You will then be required to enter some general financial information, review the terms and conditions, review the security information, and review the additional features before the application process can be completed.
Once you have completed each of the steps listed above you will have completed the application process for the British Airways Visa Signature Credit Card and will be one step closer to making smart decisions about your current and future financial situation.