The Casey's Visa Platinum Credit Card, issued through UMB Financial Corporation, has many benefits to consider whilst shopping for credit candidates. It offers a rewards program for those who frequent Casey's General Store, offering 2% savings on all in-store purchases as well as 1% savings on everything else. In the first 60 days, they really pamper their new card members, offering savings of up to 13 cents per gallon on gas and doubling the rewards program. With a standard APR and no annual fee, one might anticipate less benefits, yet on top of their reward program they've thrown in auto rental and travel insurance. If you'd consider yourself a loyal Casey's shopper, this card is a fantastic option! If you'd like a run through of the application process, scroll down to review our step-by-step guide which details exactly how to complete the application.
Before proceeding, it is advised that you review the UMB privacy policy to be informed on exactly how your personal information will be used.
How to Apply
Step 1- First off, navigation to the card summary page will present you with the link to access the application forms. Look for the Apply Now option as displayed below and select it to proceed.

Step 2- The following page is where your personal details must be supplied. Start by entering your First Name, Last Name, Date Of Birth, Social Security Number, and your Mother's Maiden Name.

Step 3- To continue, supply your Email Address, Physical Address Line 1, City, State, Zip Code, and specify whether or not the address given is your mailing address. Just below that, indicate the Length at Residence and give your Primary Phone Number.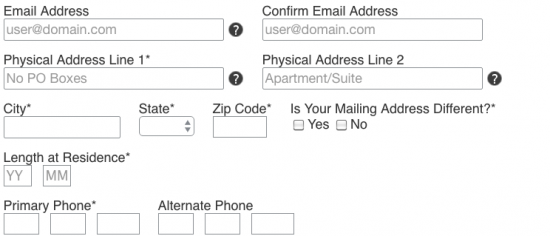 Step 4- Underneath the Financial Information heading, specify your Employment Status, Employer Name, Length of Employment, and Residence Status. You can optionally supply additional financial info by entering your current Position, Previous Employer Name along with the associated Position and Length of Employment. You may also give your current Work Phone number.

Step 5- Next, enter the totals for your Monthly Housing Payment and Gross Annual Salary. You can optionally supply the name of your Primary Financial Institution, Gross Annual Other Income, and Other Income Source (if any). The ability to add an authorized user to your account is also present at this juncture of the application process.

Step 6- If you scroll down to the bottom of the page, you should see the terms and conditions window outlining the rates, fees, and various other pricing information. It is highly recommended that you review this document to ensure that the card is indeed suitable to your financial situation. If it is, check the small box next to I Agree to these terms and click the Submit button to proceed. Your application will be sent to UMB for an official review and confirmation should be sent your way shortly.
That's all for this Card Reviews tutorial. We thank you for choosing to use our services and we would like to welcome you back whenever credit card assistance is needed.