If you are interested in acquiring a Chemung Canal Visa Platinum Credit Card then you've come to the right place! The application is easy and can be completed fully online. In order to facilitate your application we've created a short how-to, available below, to guide you through the twists and turns of the process.
Before applying, familiarize yourself with the Chemung Canal Trust Company online privacy policy to make sure that you are the master of your personal data, and not faceless entities.
Requirements
If you do not meet the following requirements you will not be able to apply for this card:
Be at least 18 years of age
Have a valid US street address
Have a valid SSN
Be able to provide at least one government issued ID
Be elligible for Chemung Canal membership
How to Apply
Applicant will first have to navigate to this webpage, the card summary page hosted by Chemung Canal, and scroll down to the Visa Platinum Credit Card subheading to reach the click here to apply link which will redirect them, eventually, to the secure online application.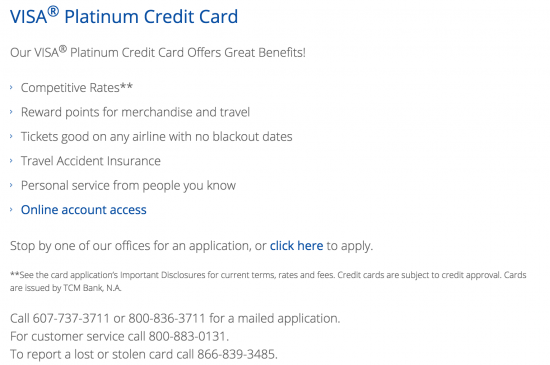 Upon clicking the link, you will be notified that you are being redirected outside of the Chemung Canal website to a partner site for the application. Click continue to site in order to continue.

One more step! Before you will be able to reach the application, you must once more affirm that you would like to apply, this time on the partner site. Click apply now to continue.

Step 1- Applicant Type
Choose which type of application, joint or single, you will be filing.

Step 2- Information
This is the brunt of the application, enter all of the following information in the provided fields:
Full name
Mother's maiden name
Email address
Phone number
Address
Duration at address
SSN
Preferred method of contact
Date of Birth
Previous address
Previous address duration
ID information
Employer
Occupation
Title
Duration of employment
Employer address
Employer phone
Previous employer information
Gross income
Housing information
Step 3- Final Information
Decide at this point if you would like to add an authorized user or to perform a balance transfer (up to 4 allowed). You may also write any additional comments into your application at this point.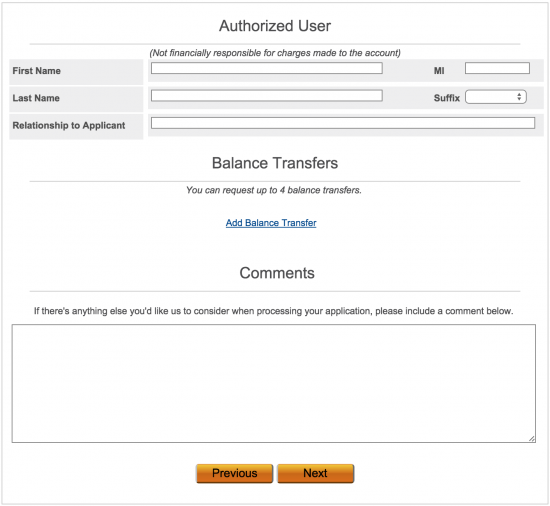 Optional Step- Balance Transfers
To perform a balance transfer enter the information shown below into the provided fields.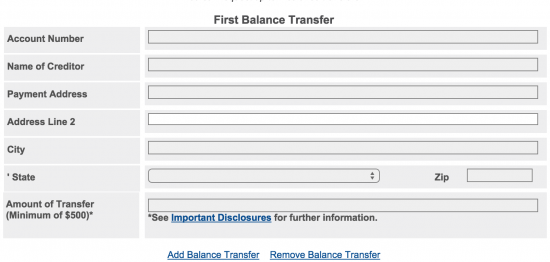 Step 4- Disclosures
Read over the terms and conditions before assenting to them and submitting your application.