The Simmons Bank Visa Platinum Credit Card is a no frills, cheap, reliable credit card that would be ideal for the individual willing to sacrifice a rewards program in order to gain a reasonable annual percentage rate. If you are interested in applying for this card, you can consult our tutorial (provided below) on how to complete an online application. The purchase APR is truly remarkable at only 7.5%, and the APR on cash advances is slightly higher but still an impressive 11.5% (APR is subject to change). Although this card doesn't offer a rewards program, the APR more than makes up for the lack of other benefits. Scroll down to follow our step-by-step guide on how to apply for the Simmons Bank Visa Platinum Credit Card online.
Before you enter any of your personal information on their website, we recommend that you look over the Simmons Bank privacy policy.
Requirements
To be eligible for this credit card you must meet the following requirements:
Be at least 18 years of age
Have a valid US mailing address
Have a US SSN
Have a US-issued photo ID
How to Apply
Step 1 – To access the application form for this credit card, go to the Simmons Bank credit card summary page and locate the Visa Platinum option. Once there, click the red Apply Online link to proceed to the next step.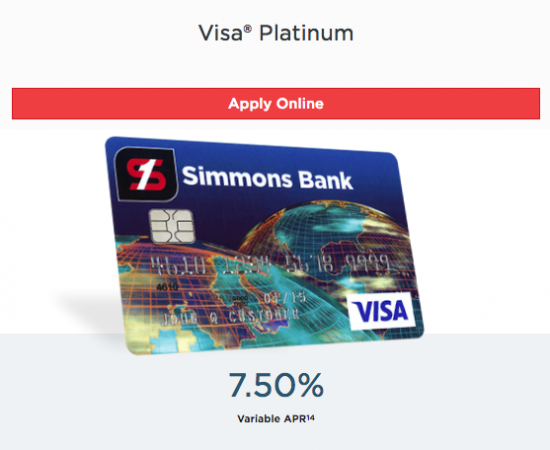 Step 2 – Before you can start filling out your form, you will need to read and agree to the terms and conditions contained in the disclosures document. When you are done, click I Agree to continue.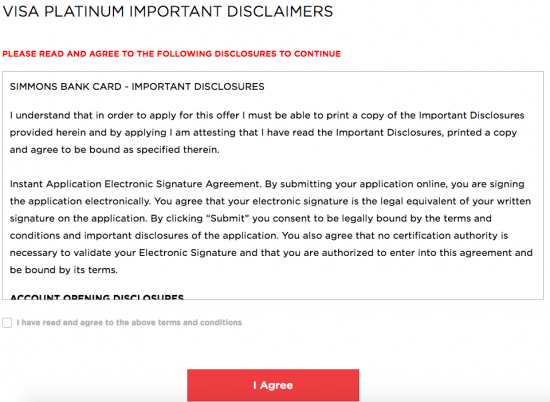 Step 3 – At this juncture, you should be on the application page. Enter all of the information listed below into the Borrower Information window.
Full name
Name displayed on card
Email address
SSN
Date of birth
Mother's maiden name
Primary phone number
Complete mailing address (including city, state, and ZIP code)
Time at current address
Housing situation
Drivers license number
Drivers license state
Current employer name
Time with employer
Business phone number
Select Yes or No to indicate whether or not you have a bank account open with Simmons Bank. Then, enter your Gross Annual Income and Monthly Housing Payment in the appropriate spaces.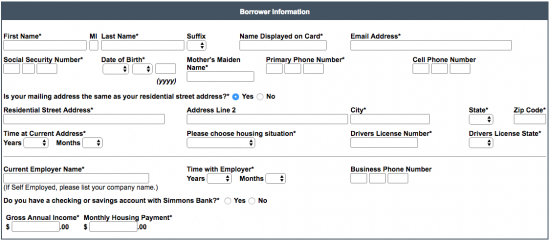 Step 4 – In the Add Authorized Users window, you can add additional card users by entering the information listed below into the indicated fields.
Full name
Name displayed on card
Relationship
SSN
Date of birth
Primary phone number
When you are ready, click Submit to go to the next step.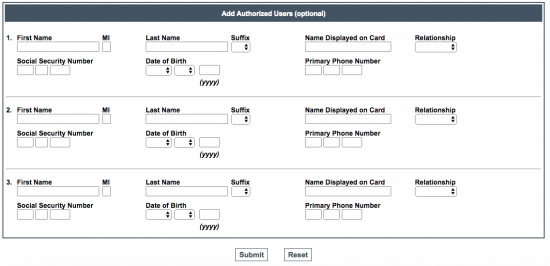 Step 5 – In this last step, you will need to review all of the information that you entered in your application form. If all of the information is correct, tick the box to indicate that this is indeed the case, and that you have read and agree to the disclosures presented on the previous page and click Submit when ready.
Your application for the Simmons Bank Visa Platinum Credit Card is complete! You will soon receive a response from the Simmons Bank. We wish you the best of luck with your application and hope that our tutorial has been helpful today.