If you're in the market for a new credit card, and you just so happen to be a Cincinnati Reds fan, the Cincinnati Reds Cash Rewards Mastercard is worth taking a look at. If your credit score is good, your assigned APR could be as low as 13.24%. If not, it could be as high as 23.24%, which is an extremely high interest rate (APR is subject to change). Regardless of your assigned interest rate, your APR will start at 0% for the first 12 billing periods, allowing you to use the card stress-free for the first year. Considering the fact that there is no annual fee associated with this credit option, the card offers a great rewards program, which includes 3% cash back on gas purchases, 2% cash back on grocery store purchases, and 1% cash back on all other purchases. As an additional signup bonus, if you make $500 in purchases within the first 90 days of their account opening, you also can get $100 in cash rewards. If you're interested in applying for this card, there is a step-by-step guide on how to complete an online application below.
Before continuing, we recommend reading the privacy policy for Bank of America (the card-issuing company) so that you know more about how your information is protected by them online.
Requirements
To be eligible for this credit card, applicants must meet the following criteria:
Be 18 years of age or older
Have a valid US address
Have a valid US SSN
How to Apply
Step 1 – First, you need to go to the MLB Credit Card summary page. Once there, click the blue Apply Now link to proceed to the next step.

Step 2 – Next, select Cincinnati Reds from the Choose your card pull-down menu as pictured below. Then, scroll down the page to start filling your application.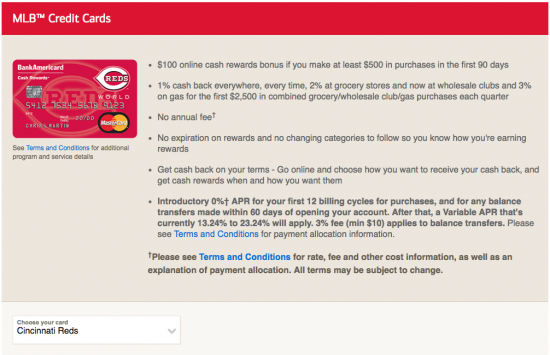 Step 3 – To complete your credit card application, an extensive amount of personal and financial information is required. In the Personal window, begin by entering the information listed below into the indicated fields.
First name
Last name
Residential address
Apartment/Unit #
City
State
ZIP code
Other address (if applicable)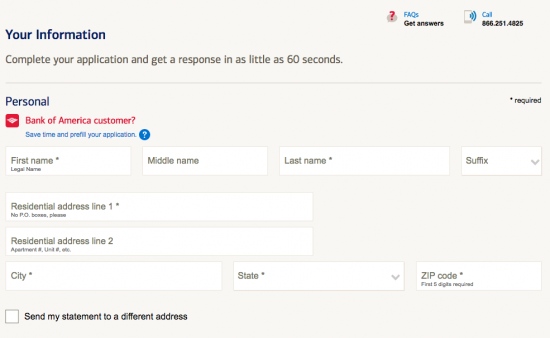 Step 4 – Now, enter the following additional personal and contact information as indicated:
Primary phone number
Email address
Country of citizenship
Country of residence
Date of birth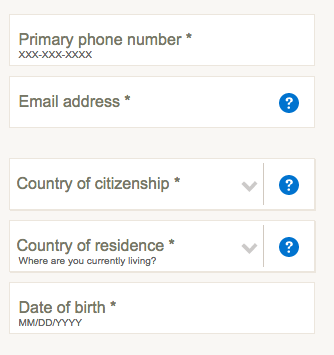 Step 5 – To determine your financial reliability and credit score, the Bank of America requires the following information to be entered in the Employment & finances window:
Employment status
Total annual income
Source of income
Liquid assets
Monthly housing payment

Step 6 – If you've made it this far, all the information demanded of you will have been submitted. You may now choose consolidate existing credit card balances onto one bill in the Additional options section. When ready, read the terms and conditions and, if applicable, indicate that you agree to them by checking the box below the document window. Click Review your information to proof-read your application, before clicking Submit.

When you have completed all six steps of this guide, your application will be submitted for approval. We wish you the best of luck with your application and all your financial endeavours!