The Clemson Alumni Association Credit Card is offered by Visa in partnership with Clemson University and Bank of America. It is the ideal card for Clemson University alumni looking to show off their school pride and get cash back rewards while they're at it.
Have a look at the Bank of America online privacy policy and then get started with our easy-t0-read instructions on how you can apply for the card.
Requirements
Like any credit card, you'll have to pass some requirements before you can become a cardholder. The Clemson University Alumni card requires you to be:
At least 18 years of age
Residing in the U.S.
In possession of a social security number
How to Apply
Applying for the Clemson Alumni Association Credit Card is simple. Follow these steps for the most efficient and easy way to apply.
Step 1: Go to This Webpage.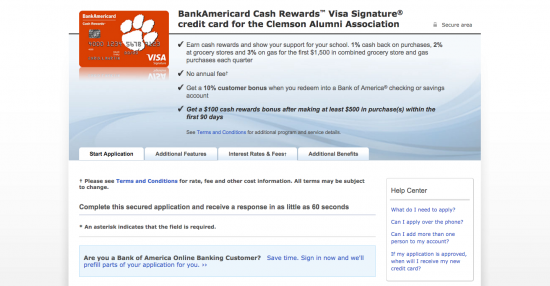 Step 2: Scroll down a little bit to the information form. You will be required to input data into all of the blank boxes listed on the page.
Get started with the "About you" section. Enter your:
Name
Phone number
Email address
Physical address (including city, state, and ZIP code)
Country of primary residence
Whether or not you would like your statements sent to another address
Your housing status and your monthly housing payment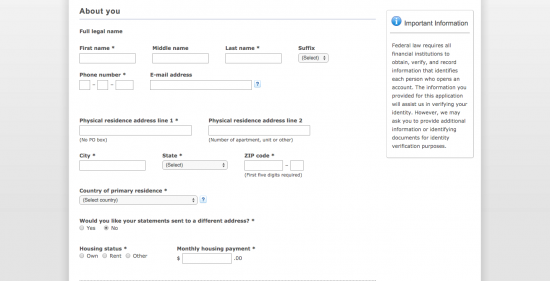 Step 3: Indicate what your employment status is. Input your total annual income and the source of your income.
If you want to make a balance transfer, tick the first box under "Your card features". If you would like to add an additional cardholder, tick the box next to "Additional cardholder".
For security purposes, input your social security number, date of birth, mother's maiden name, and country of citizenship. Indicate whether you are a U.S. citizen or a resident alien.
Step 4: Finally, read and review the Terms and Conditions for your Clemson Card. After clicking "Continue" you will receive a decision on whether or not you are eligible.