The Penn State Alumni Association Credit Card is a great credit option not just for those involved with the university, but for anyone looking to acquire a card with fair interest rates and a strong rewards program. Based on your credit worthiness, your APR will be somewhere between 13.24%-24.24% for all purchases and balance transfers (APR is subject to change). The rewards program allows cardholders to earn up to 3% cash back when buying fuel, groceries, or any other qualifying purchases as described in the terms and conditions. When you redeem your cash rewards into a Bank of America checking/savings account or an eligible Merrill Lynch Cash Management Account, an extra 10% will be added at the time of redemption. This feature is most certainly attractive to those with an eligible bank account. Should you be interested in this credit card, we have provided a step-by-step tutorial below which will walk you through the application procedure. Scroll down to get started.
Take a moment to review Bank of America's privacy policy before submitting any personal information into their online portal.
Requirements
In order to be eligible for this card, you must meet the following requirements:
You are at least 18 years of age
You are at least 21 years of age if you are a permanent resident of Puerto Rico
You reside in the United States
You have a valid SSN
How to Apply
Step 1- Navigate to the Penn State Alumni Association Credit Card application form by following this link. There is an About you heading that you'll need to scroll down to. There you will need to enter the following information:
Full name
Phone number
E-mail address
Physical residence
City
State
Zip code
Country of residence
Would you like your statements sent to a different address? (y/n)
Housing status
Monthly housing payment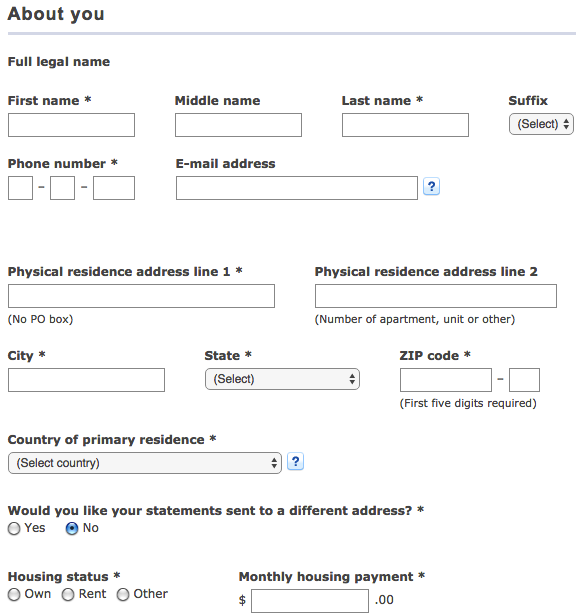 Step 2- Now you'll need to supply your Social security number, Date of birth and your Mother's maiden name. Using the drop-down menu, specify your Country of citizenship. Below that, select one of the two available options to indicate your citizenship status.
Step 3- Use the drop-down menu to indicate your Employment Status. For those who are employed, you will need to enter your Company name or employer, the Years in occupation, your Occupation, and your Work phone number. Students will need to supply some information that differs slightly. Scroll down to review the exact information that is required. Anyone who doesn't meet either of these employment statuses can continue on to the next step.
Employed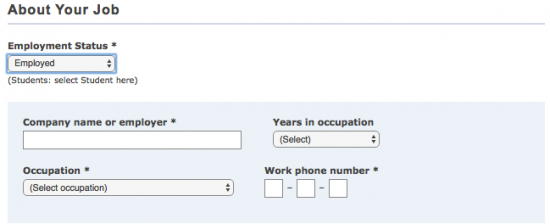 Student
School name
Student status
Years in school
Graduation date
Your major
Apartment/suite number
Address
Company name or employer
Job status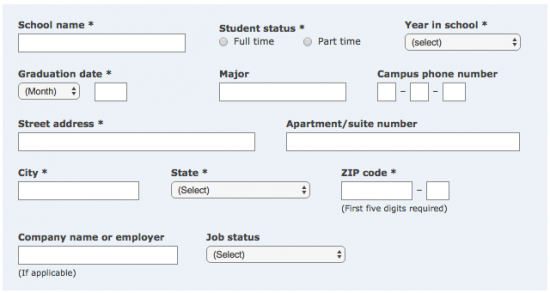 Step 4- Next, enter your Total annual income into the blank field and use the drop-down menu to specify your Source of income.

Step 5- If you would like to consolidate your previous balances, select the first available option under Your card features to perform a balance transfer. You may also add an additional cardholder at this juncture.

Step 6- Take a moment to review Bank of America's terms and conditions before clicking Continue to proceed.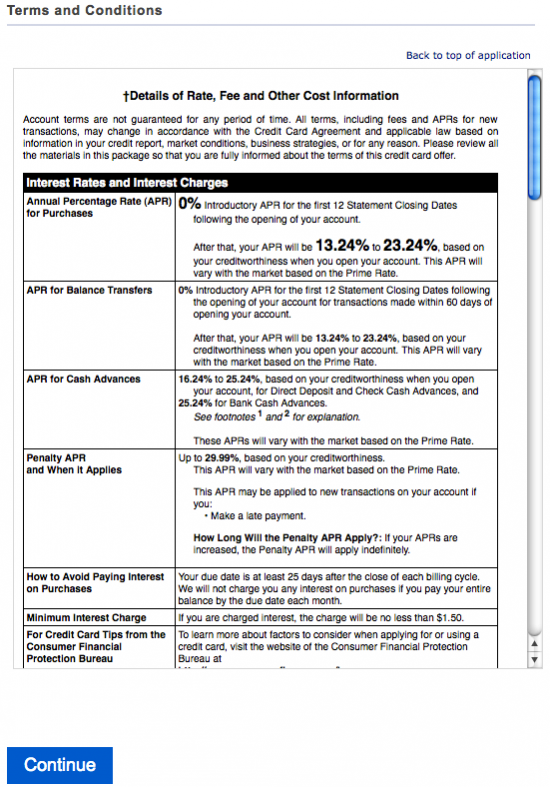 Step 7- Scroll down to the bottom of your page and you will see a small box that must be checked. This box is used to provide your consent to the terms and conditions for this credit card. When you're certain that everything has been supplied correctly, click Submit Application to conclude this process.

Congratulations of making it through the application process! We hope you found this tutorial helpful as you navigated through Bank of America's online portal. Best of luck with your new credit card!