The Club Carlson Visa Rewards series of credit cards allows travellers to save money on their accommodations and receive access to special promotions. If you stay at Carlson-owned properties often, one of these cards could be for you. There are two cards to choose from: the Club Carlson Premier Rewards Visa Signature Credit Card and the Club Carlson Rewards Visa Signature Credit Card.
The Club Carlson Premier Rewards Visa Signature Credit Card has a higher annual fee of $75. However, it rewards you with 10 points per dollar spent at Carlson-owned hotels. Cardholders receive 5 points on the dollar for other purchases. You also receive an 85,000 point bonus when you sign up.
The Club Carlson Rewards Visa Signature Credit Card on the other hand has a $50 annual fee. The card rewards you with 6 points per dollar spent on Carlson-owned hotels. You receive 3 points for all other purchases. The startup bonus is 60,000 points. The APRs of the cards are similar and are variable and dependent on creditworthiness.
Now that you know the differences between the two Carlson Rewards cards, you should read Club Carlson privacy policy and then continue on reading about how you can apply for the cards.
Requirements
The requirements to apply for the Club Carlson Visa Rewards card are as follows:
Being at least 18 years of age
Residing in the U.S.
Having a valid social security number
If you pass these eligibility requirements, you can continue!
How to Apply
Step 1: Go to This Webpage.
Click "Learn More" under the card that interests you most.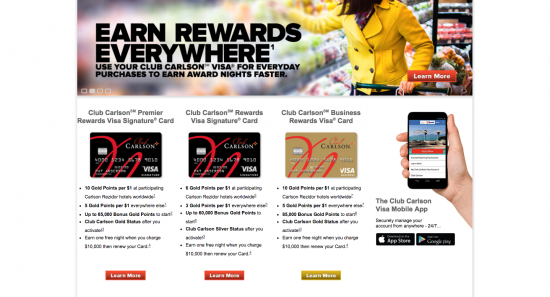 Step 2: On the next page, click the red "Apply Now" button.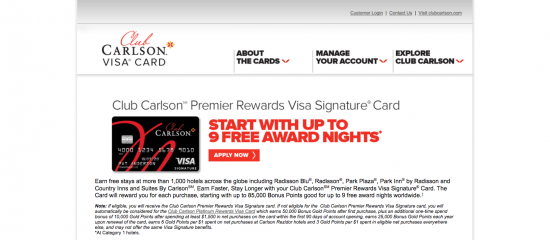 Step 3: This step requires you to fill out a form with some personal and financial information. Start off under "Personal Information" with your:
Club Carlson number
Name
Date of birth
Social security number
Primary and mobile phone numbers
Email address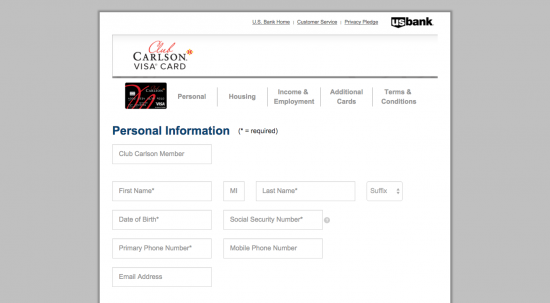 Step 4: Now enter your:
Street address
City, state, and ZIP code
Time at address
Housing status
Monthly payment
Whether or not you have an alternate mailing address
Underneath "Income and Employment Information", enter your:
Employment status
Annual income
Whether or not you have other income
Whether you have a Checking or Savings account
Step 5: If you are applying with a joint applicant or would like to add an authorized user, use the "Yes" toggles to move to yes.
Finally, read and review the Terms and Conditions and click "I accept the Terms and Conditions". Click "Submit" and you're finished applying. You will soon receive the U.S. bank decision on your application.