Drury Hotels, in partnership with Commerce Bank, offers the Drury Gold Key Club Credit Card to frequent guests to help them save while they stay at the hotels. Rewards are offered on bookings, in-hotel purchases, and all other purchases. Now is a good time for me to mention that applying has never been easier, thanks to our step-by-step guide, available just below.
For your convenience we have uploaded the Commerce Bank Privacy Policy to our site. It is recommended that you take a minute to read through the policy to ensure that your information is being treated with proper caution.
Requirements
Applicants must meet the following requirements if they are to apply for the Drury credit card:
Be at least 18 years of age
Have a valid US street address
Have a valid SSN
How to Apply
Commerce offers a neat summary of the Drury card here. From this page you will find a large apply now link which will redirect you to the secure application. If the 15,000 bonus points have properly seduced you, head over to the application page to get started.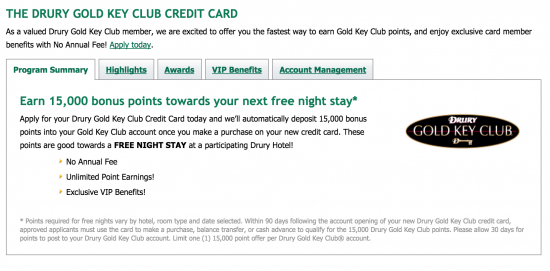 Step 1- Terms and Conditions
Though the summary makes the card look good, read over the fine print in the terms and conditions before continuing on with the application. To my eye it looks standard, but it never hurts to double-check. Click I Agree to continue on with the application.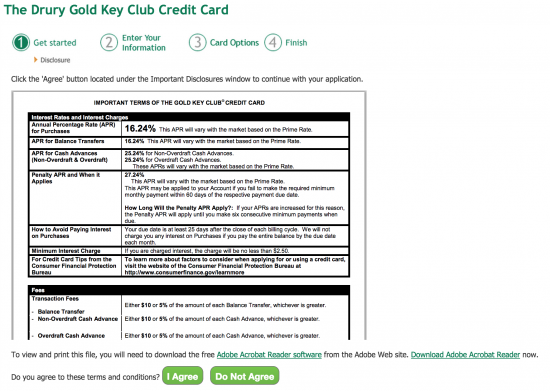 Step 2- General Information
Submit the following pieces of personal information here:
Full name
Address
Phone number
Email address
Duration at address
Date of birth
SSN
Mother's maiden name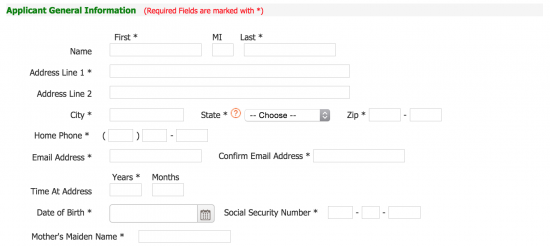 Step 3- Employment and Financial Information
To secure that low, low APR you must submit your financial information here. Input the following financial information into the provided fields:
Occupation
Employer
Time with employer
Work phone number
Total annual income
Other income
Housing status
Monthly housing payment
Nearest relative full name / relationship
Step 4- Additional Questions
Declare your bankruptcy and resident status here.

Step 5- Final Questions
If you would like to add a co-applicant, perform a balance transfer, link your card with a Commerce account, or purchase overdraft protection you may do so here. After reviewing your application submit it here for instant review.