The Drury Gold Key Club Credit Card is offered in part by the Drury chain of hotels and Commerce Bank. Using the card can allows cardholders to gain points and later exchange these points for deals on hotel rooms and other promotional options.
The card is best managed online. To learn how you can use your Drury Gold Key Club Credit Card online, read the rest of this page,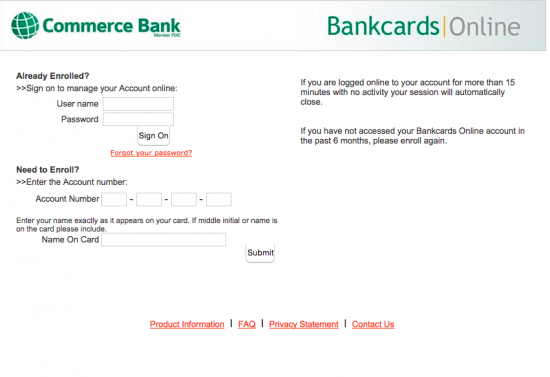 Make a Payment
In order to check on how many points you've accumulated or to make a payment on your card, login by clicking the image above. Enter your username and password, click "Sign On", and you will be redirected to your personal account homepage. Here you can make payments, view prior transactions, and adjust settings on your account.
If you don't have a username or password, you will have to securely activate your card. The next section of this article explains how you can do this.
Activation
To activate your card, get started by clicking "Secure Activation" above. In the section headed by "Need to Enroll?", enter your account number and your name as it appears on your card. Your account number is located on your statements that get sent to your home. Click "Submit" and you're all set. Your card is ready to be used online.