Looking to get your hands on that sweet, sweet platinum action courtesy of Conestoga? The time is now. Allow me to present the Conestoga Visa Platinum Credit Card, a card with all of the trimmings of a Visa Platinum program- low APRs, large credit lines, and the like. Applying for this card only takes a few minutes and the surrendering of some vital data to Elan Financial Services (the card handler for Conestoga) and is mostly painless. For a little help along the way, please feel free to utilize our official application guide, available just below.
Before jumping in head first please take a cursory look at the EFS online privacy policy to ensure the safety and security of your information.
Requirements
All applicants must:
Be at least eighteen (18) years of age
Have a valid US SSN
Have a valid US street address
How to Apply
Access the secure application form by navigating to the card summary page and selecting apply now.

Step 1- Personal Information
Once within the application you will be expected to enter, first, the following personal data to establish your identity:
Full Name
Date of Birth
SSN
Phone Numer
Email Address

Step 2- Housing Information
To continue on with the application submit the following data regarding your housing status:
Address
Time at Address
Housing Status
Monthly Payment
Alternate Mailing Address (if applicable)

Step 3- Financial Information
Finally, submit the following data detailing your financial circumstances here:
Employment Status
Annual Income
Other Income (if applicable)
Bank Accounts Held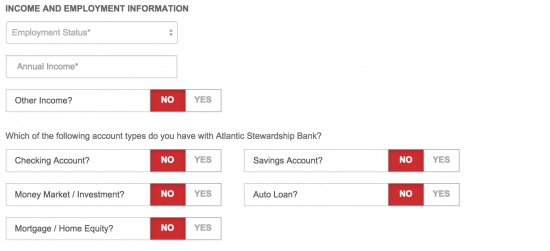 Step 4- Additional Options
EFS gives you the option to add an additional cardholder to your account at this point if you would like to do this.

Step 5- Disclosures
Read the terms and conditions!! If you agree to the terms indicate as such by checking the provided box and select submit.