For those who spend more time travelling than the average individual, the Discover it Miles Travel Credit Card is Discover's best fit for you. They offer 1.5x the miles on every dollar spent, as well as reimbursement for up to $30 towards your in-flight wifi use. The APR is decent, depending on your credit worthiness of course, and they won't charge you any for the first 12 billing cycle. If this is a card that interests you, we've assembled a detailed guide on how to navigate through the application process with ease. Scroll down for more information.
Reading the online privacy policy is something we highly recommend doing before entering in any personal or financial information into the Discover website.
How to Apply
The Discover it Miles Travel Credit Card card summary page will give you access to the Apply Now link displayed below.

Step 1- Name
You will then be required to enter you first and last name as well as select the card design of your liking.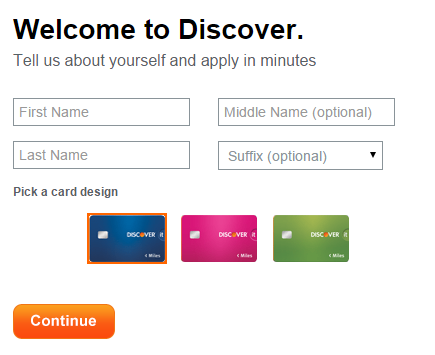 Step 2- Personal Information
Enter in the following personal information
Street Address
City
State
ZipCode
Email Address
Home Phone
Date of Birth
SSN
Employment Status
Total Annual Gross Income
Monthly Housing Payment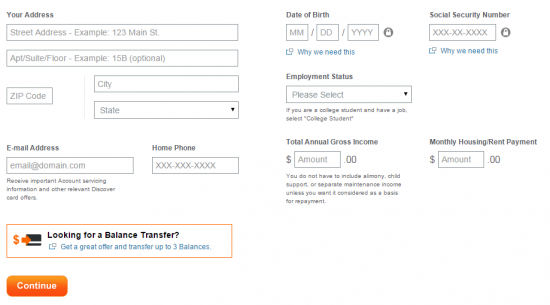 Step 3- Financial Information
After personal, this financial data is required:
Occupation
Employers Name
Length of Employment
Business Phone #
Highest Level of Education Achieved
Housing Status
Length of Time at Current Residence
Whether or not you have another account
Mother's Maiden Name

Step 4-Terms and Conditions
Read over the terms and conditions before checking off the box indicating that you have done so and you agree to their terms.Your application will then be sent in to Discover to analyze your credit worthiness. Good luck!