Welcome to the Card Reviews guide to the First Federal Secured Visa Card application procedure. Individuals applying for this card will most likely be applying to simply improve their credit rating as this card has no bonus point features or cash back rewards available. It has a fixed APR of 20.24% which is the highest starting rate amongst all of the cards available from First Federal (APR is subject to change). There is an annual fee of $19 which isn't high by any mean, though the other cards have no annual fee what-so-ever. You will be required to deposit at least $300 into a savings account to provide collateral for this card (view deposit account disclosure). In conclusion, this card has above average rates but comes with the added bonus of being able to set your own credit limit. Scroll down to get started.
This card has been issued by First Bankcard, a division of First National Bank of Omaha. Be sure to review their privacy policy before submitting any personal information into the online portal.
Requirements
To be eligible for this card, the following requirements must be met:
You are at least 18 years of age
You reside in the United States
You have a valid SSN
How to Apply
Step 1- to begin the application process, navigate to this webpage. There you will need to scroll down to the Secure Card menu and click on Apply Now.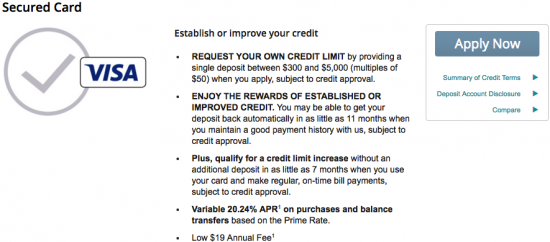 Step 2- On the next page, the following information will be required:
First name
Last name
Physical address
City
State
Zip Code
Home phone number
Email address
Step 3- Continue by supplying your Date of Birth, SSN and Mother's Maiden Name. Just below that, indicate the years you've spent at your home address, your Housing Status and Monthly Housing Payment.

Step 4- Next, enter the name of your Present Employer and Business Phone Number. After this, enter the total amounts of your Annual Income, Checking Account, Savings Account and Investment Account.

Step 5- You can add an authorized user by entering-in an individual's name into the empty fields.

Step 6- Here you will need to supply your deposit information. Enter the Amount, Amount Type, Routing Number, and Account Number. Click Continue to proceed.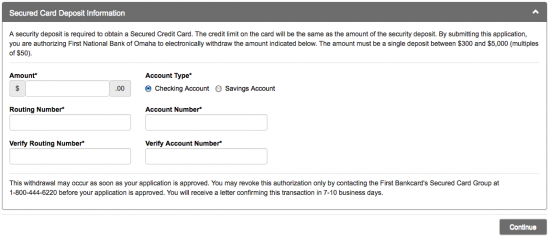 Step 6- This page provides you with a review of the information you've supplied up to this point. Go over the data and check it for accuracy before proceeding. Review First Bankcard's terms and conditions and check the small box at the bottom of the page to provide consent to their terms. Click Submit to complete the process and have your application submitted for review by First Bankcard. Hopefully you found this tutorial both straightforward and informative. Good luck with your new credit card!