Fortunately, as a card-carrying member of the Fordham University Cash Rewards Visa Credit Card, you'll be able to reap the benefits of Bank of America's online banking services. As the issuing institution of this credit card, Bank of America provides users an excellent online banking system which is secure and safe for you to login from any computer anytime, anywhere. Some of you may already have an account and, if this is the case, you can login and activate your credit card online. If you don't have an account, have no fear, we will provide instruction on how to enroll for one.
Take a moment to acquaint yourself with the terms of personal information sharing in Bank of America's privacy policy.
How to Login
To begin, click on this link to get the Bank of America website. From this home page you'll be able to do a number of things, one of which is login to your account. There is a red box on the left of the page; here you'll need to enter your Online ID and Passcode. After you click Sign In, you'll be redirected to your online banking account.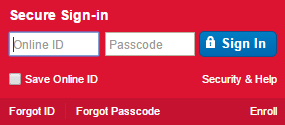 In case you forgot your Online ID, there is an easy way to remedy this conundrum. Simply click Forgot ID as shown in the window above, and you'll get to the page similar to the one below. You'll need to submit your card or account number, social security number and passcode. Once this is all entered click Continue and you will be given instruction on how to recover your ID.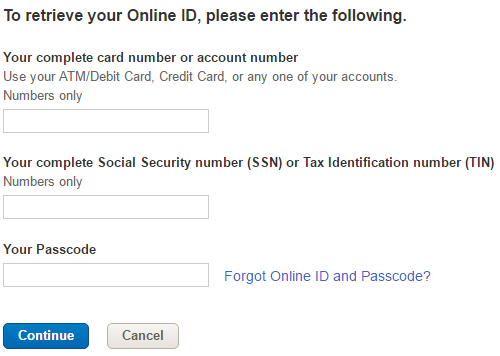 Perhaps you know your ID but can't remember your passcode. If this is the case, click on Forgot Passcode. You'll need to enter your card or account number, social security number and online ID in order to create a new password.
Activation/Registration
Activation#: 1 (800) 276-9939
The very first step after receiving your new credit card is to activate it; you can do this by calling the number above. Bank of America also gives clients the option of activating online, however, you must have an online account to do so. To enroll for an online account, follow the link provided above and enter the necessary information. You'll need to give them your card or account number and social security number, then create an ID and Passcode. And that's all there is to it.