Its easy to login and make payments with the Gander Mountain Credit Card online portal. Simply follow the link and get started with your online account. Once registered, cardholders are able to view and print billing statements, update account information, and, as previously mentioned, make payments for their cards.
Make a Payment
In order to make a payment on your Gander Mountain Credit Card, simply follow the link and access the main home page for the card. Towards the top left corner, notice the Sign In box. Enter your user name and password in the blank fields, click "Sign In", and you will gain access to your card's online account page.
In case of a forgotten user name or password, follow the "Forgot your user name or password?" link.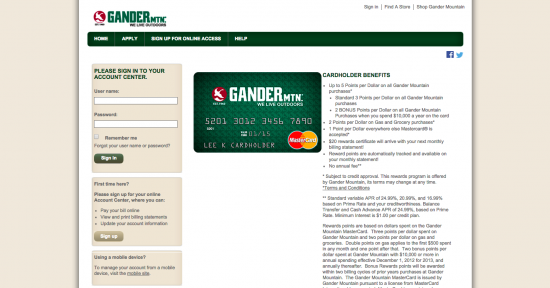 Activation
If this happens to be the first time you're visiting your online Gander Mountain Credit Card account, you must register and activate your card. This can be accomplished by following the Secure Activation link above. One can also access the activation page by clicking "Sign Up" on the Gander Mountain Credit Card homepage.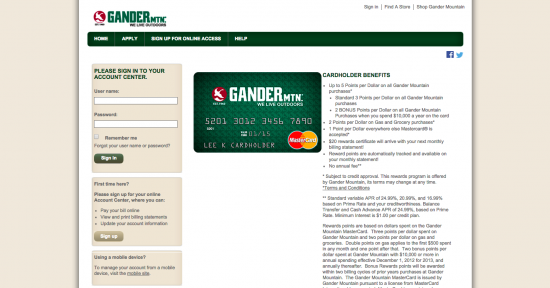 In order to activate your card, you will need the card itself and some other personal information. Once you have found the activation page, click "Yes", when asked if you have your card number.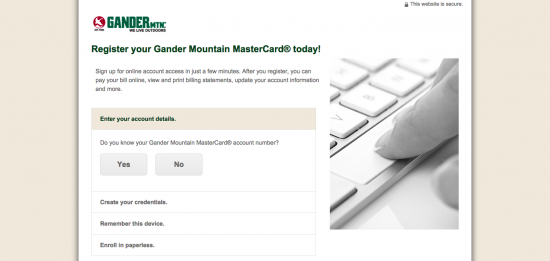 After clicking yes, you will be prompted to enter your account number, your social security number, and your ZIP code.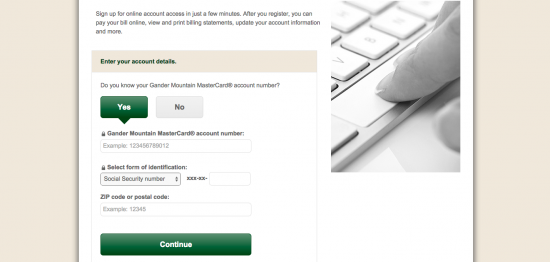 Once you have completed entering in your information, click "Continue". Finalize your activation by creating your credentials, and deciding whether or not you would like to enrol in paperless billing.