Cardholders of the Greater Iowa Credit Union Visa Secured Card can easily manage their accounts online by logging in through the Greater Iowa Credit Union website. Through this online account, you can transfer balances to your Greater Iowa Credit Union Visa Secured Card, review statements, manage bills and much more. Before you get started with your account you will need to have activated your card and have registered for an online account. See the bottom of the page for details on how to perform these actions if you have not yet done so. If you've already registered for your online account and would like information on how to login, follow the guide below.
You can read the Greater Iowa Credit Union privacy policy here.
How to Login
In order to login to your account, go to the Greater Iowa Credit Union website. There you will navigate to the Online Banking Login in the upper right-hand corner, as pictured below. Enter your Login ID and Password in the indicated fields. Now click the Login link, you will be redirected to your account.

If you have forgotten your password, enter your Login ID, then click the Forgot Password? link, as seen below. You will be required to provide some information, such as your member number, SSN, date of birth and last name.
If you forget your Login ID, you will have to contact your financial institution in person or by phone. The Greater Iowa Credit Union customer service number is 1 (800) 296-9064.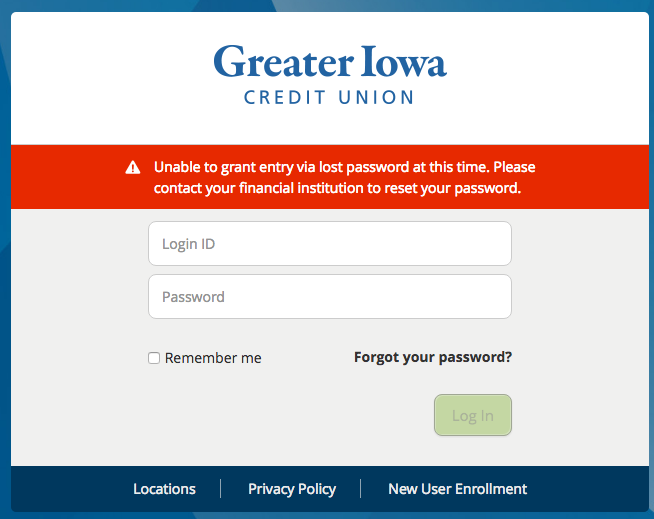 Activation/Registration
To activate your Greater Iowa Credit Union Visa Secured Card, you will call the 800 number listed immediately above and speak to a representative. Once your card is activated, you will probably want to set up an online account. You can start by clicking the Secure registration link provided above. This will redirect you to the application page pictured below.
To enroll, you will have to enter the following information:
Member #
Date of birth
Last name
Last four digits of SSN
Your desired user name
Feel free to consult the Greater Iowa Credit Union privacy policy before clicking Submit and officially creating your online account.