If you're looking to have a credit card with the Greater Iowa Credit Union (GICU) and you need to rebuild credit, or you're looking for a more conservative credit option, the Greater Iowa Credit Union Secured Visa Card may be the best choice for you. Your credit limit will be established by you making a deposit of the same amount and, with this collateral, even with a low credit score you will most likely be approved. Additionally, the interest rate (APR) is fairly low at only 15.2% (APR is subject to change). Would you like to apply for the Greater Iowa Credit Union Secured Visa Card? Continue reading through this guide for instruction on how to do so.
Read the GICU privacy policy before proceeding.
Requirements
To be eligible for this credit card you must fulfill the following requirements:
Be at least 18 years old
Live in the United States
Have a valid SSN
Make a security deposit in the amount of your desired credit limit
How to Apply
Step 1- Go to the Greater Iowa Credit Card Suite page and select the GICU Secured Visa Card.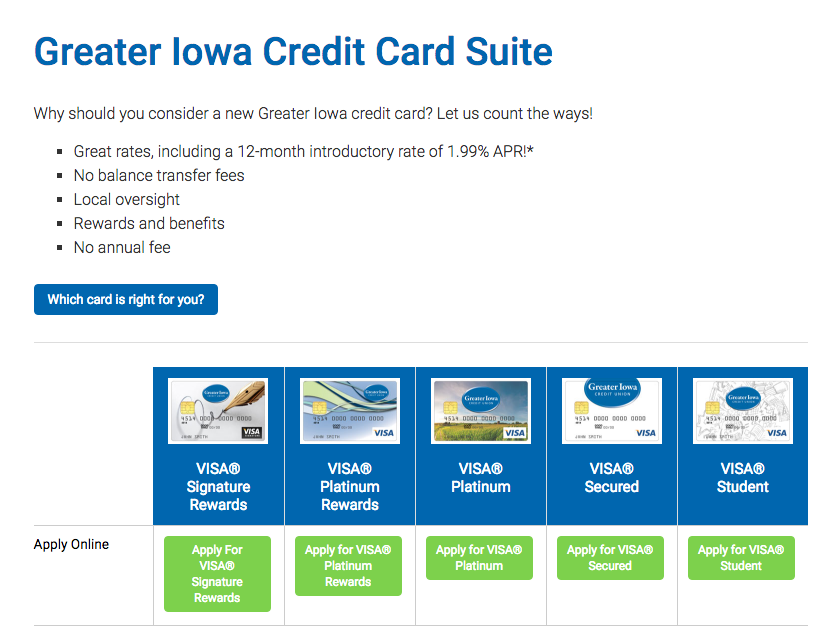 Step 2- If you already have a GICU account, enter your member number and last 4 digits of your SSN, then click continue. If not, just click continue.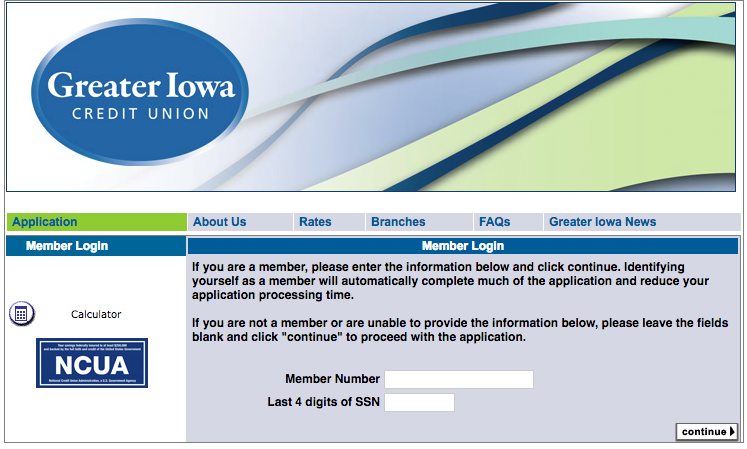 Step 3- Enter the following personal information:
Full name
SSN
Email address
Date of birth
Home/work/cell phone #
Select best contact
Indicate yes or no if you are a GICU employee
Enter the information of the person who referenced you, if applicable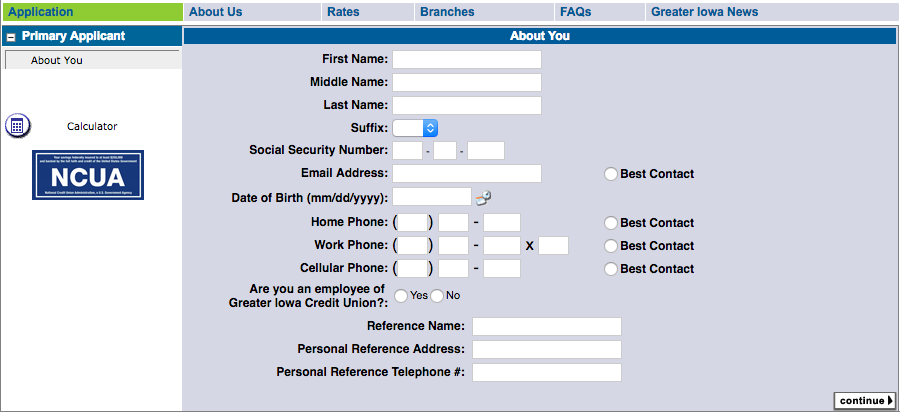 Step 4- Click on the pull down menu and select the GICU Secured Visa Card.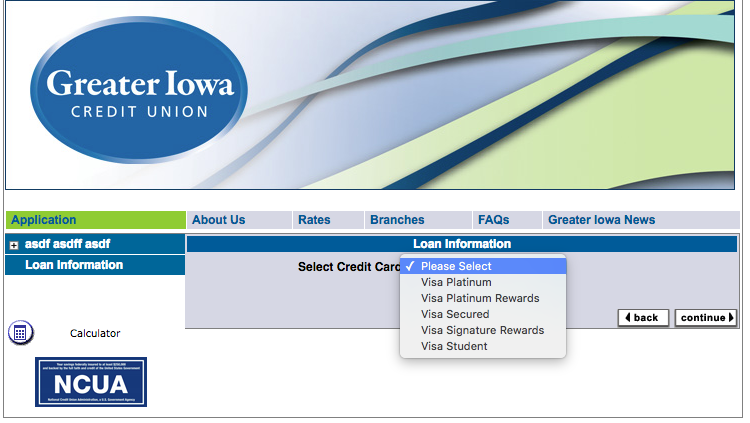 Step 5- You will now have the option to read, download and/or print the APR Terms and Conditions and Consumer Card Agreement. Click continue.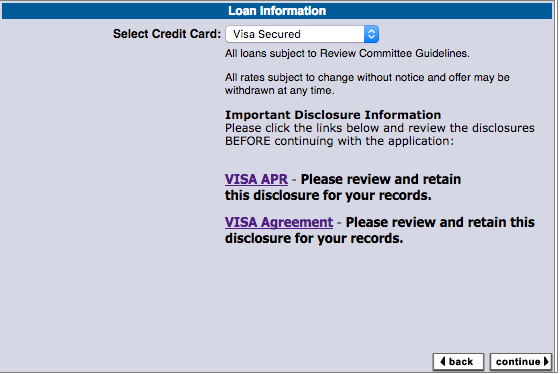 Step 6- Provide the following location information:
Complete street address
ZIP code
City
State
Time spent at said address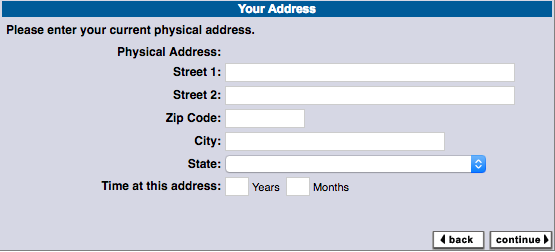 Step 7- Provide the following employment information:
Whether or not you are retired
Whether or not you are in active military service
Whether or not you are unemployed
Employer name
Position
Street address of your workplace
ZIP code
City
State
Work telephone number
Number of years and months you've worked at this job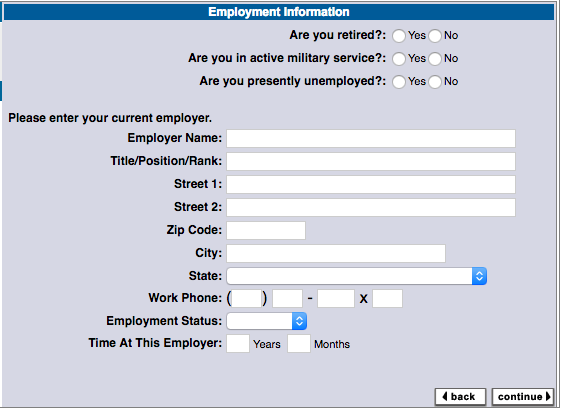 Step 8- Provide the following financial information:
Living status
Monthly housing cost (including taxes, insurance, parking cost, etc)
Other monthly costs
Declare your monthly or annual amployment income
Monthly SS income
Monthly pension income
Monthly child support (you are not required to declare)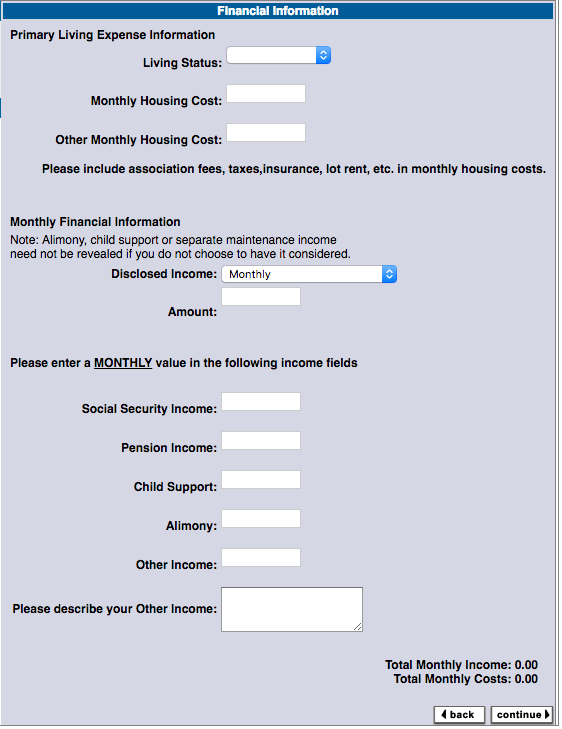 Step 9- Select whether or not you would like to add a co-applicant.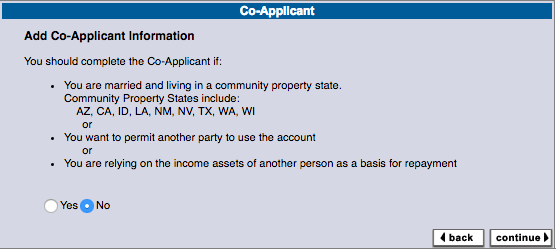 Step 10- Review all your information for any mistakes then click continue.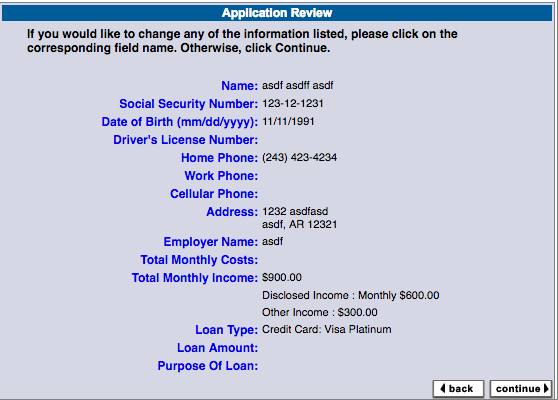 Step 11- Read the terms and conditions and consumer card agreement for the GICU Secured Visa Card. If you wish to submit your application, tick the box that indicates you agree to the terms and conditions then click Submit Application for Approval.