The Missouri State University Cash Rewards Visa Credit Card is an excellent credit card if you're looking to show support to your university while at the same time benefiting from a great rewards program. You will receive 1% cash back on everyday purchases, 2% cash back on grocery store purchases and 3% cash back on gas purchases. These points do not expire, so rack them up for as long as you want and then redeem them for cash back, or put them towards a statement credit. You will pay no annual fee and 0% APR for the first 12 billing cycles. However, keep in mind that after this year the APR will go up to 13.24%, at the very minimum. You could be seeing a rate as high as 23.24%, should your credit score not be up to par (APR is subject to change). All of your purchases will help support Missouri State University so if pride for your school is important to you, you would be wise to consider this credit card. Those of you thinking the Missouri State University Cash Rewards Visa Credit Card is right for you, take a look at our instructions below on how to apply for yours today.
Before providing any personal or financial information, you might want to take a read through Bank of America's privacy policy.
Requirements
To apply for this credit card you must meet the following requirements:
18 years of age
Valid SSN
(Note that to apply for this card as a non-resident alien you will not be able to do it online, you'll have to complete the application at a local financial center.)
How to Apply
Step 1 – In order to begin, click this link to get the Missouri State University Cash Rewards Visa Credit Card application form. A series of empty fields is presented to you, wherein you must supply the necessary data. The first section asks for the following information of you:
Full name
Phone number
Email address
Physical address
Country of primary residence
Alternate address if needed
Housing status
Monthly housing payment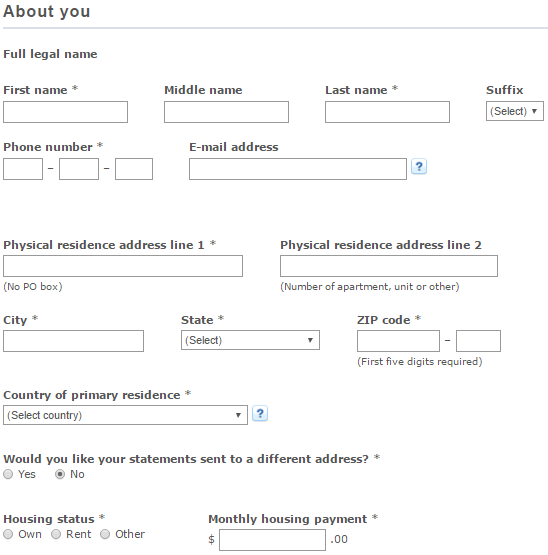 Step 2 – Your social security number, date of birth, mother's maiden name and citizenship information is required at this juncture.

Step 3 – In order to verify whether or not you are an adequate applicant for this card, you must provide your employment status, total annual income and the source of your income.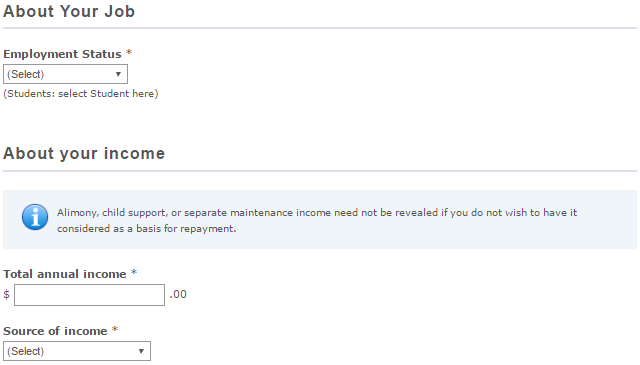 Step 4 – This step is optional. Should you wish to make a balance transfer or appoint an additional cardholder to the account, you may do so at this point. Simply select the box beside Balance Transfer and enter in the appropriate information. To add another cardholder, select Additional Cardholder and enter the person's information. If neither of these apply to you, skip this entire step.

Step 5 – To complete the application form, read and accept the terms and conditions and click Continue. Your application will now be submitted, reviewed and, hopefully, approved. We wish you the best of luck.