Show your support for your favorite baseball team with MLB Cash Rewards MasterCard. This card, issued by Bank of America, provides users with a chance to earn cash back while making every day purchases. This card comes with no annual fee and a 0% APR for the first 12 billing cycles. After the introductory period expires, a variable APR of 13.24% to 23.24% will be established. Only those with a very good credit score will be seeing the lowest rate, so make sure you're aware of your creditworthiness (APR is subject to change). The best part about this card is the rewards program. No matter where you shop, you're earning 1% cash back on your purchases. Your cashback will double when you shop at grocery stores and wholesale clubs and it will triple when you use your card to fill up at the gas station. As an added bonus, users are awarded a $100 cash back just for making their first $500 in purchases (as long as it's within 90 days of opening the account). If you think the MLB Cash Rewards MasterCard is a catch, we'll show you how to apply for it today. Follow our step by step guide below to complete the application process.
Take note of Bank of America's privacy policy before submitting any personal or financial information.
Requirements
The requirements for this credit card are as follows:
Applicants must be at least 18 years of age
Applicants must have a valid Social Security number
Applicants must have a valid U.S. address
How to Apply
Step 1 – Navigate to the Bank of America MLB Cash Rewards MasterCard webpage to begin the application process. Locate the Apply Now button next to the image of the credit card and click on it to continue.

Step 2 – They present the option to pick your card design type. To keep it as the official MLB logo, leave the drop-down menu at its current position.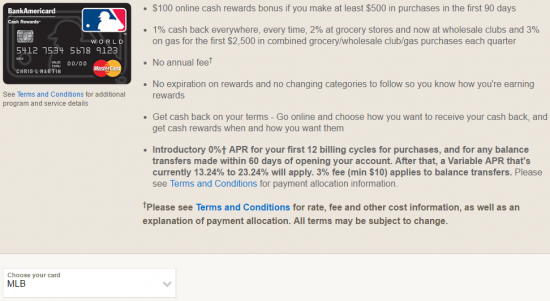 Step 3 – Next, we'll begin filling in the application form. Enter the following information into the appropriate fields:
Full name
Physical address
Primary phone number
Email address
Country of citizenship
Country of residence
Date of birth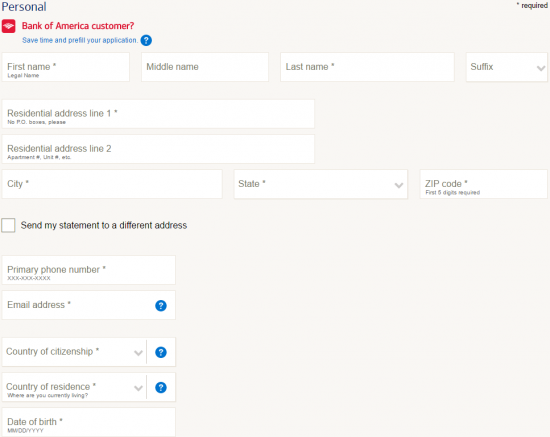 Step 4 – In this step, you are required to provide your Employment status, Total annual income, Source of income and Monthly housing payment.

Step 5 – If you would like to make a balance transfer, you may do so in the Additional options section. Tick the box next to Transfer a balance to my new credit card and enter the necessary information.

Step 6 – Read the terms and conditions, then tick the box below them to acknowledge that you have reviewed them. Next, click the Review your information button to continue. You will be asked to look over the information you've entered to ensure it is correct before submitting it for approval. That's all there is to it. Hopefully this guide proved useful to you. Good luck in your application!