If you're a proud supporter of the Minnesota Twins, you will want to show loyalty to your team in as many ways as possible. One way is to extend your pride to your wallet by applying for the Minnesota Twins Cash Rewards MasterCard. This card boasts a great cash back rewards program, earning users 1% cash back on all purchases. Cardholders can earn extra cash back rewards at grocery stores (2% cash back) and gas stations (3% cash back); however, these increased cash back opportunities are only applicable to the first $2,500 spent quarterly. Afterwards, users will be earning the regular 1% cash back rate. As an added bonus, cardholders will receive $100 cash back just by making their first $500 in purchases (within 90 days of opening the account). This card has no annual fee, and a low introductory APR of 0% for the first 12 billing cycles. After the 12 months is up, you will be seeing a rate increase of 13.24% (for those with great credit score) all the way up to 23.24% (APR is subject to change). It would be wise to look into your creditworthiness before applying for this card. There may be other cards out there with similar or better benefits, but you won't find one that shows you're a fan of the Minnesota Twins. If you would like to apply for the Minnesota Twins Cash Rewards MasterCard, you can follow our step by step tutorial below.
Take a second to read through the privacy policy provided by Bank of America to learn about their information sharing policies.
Requirements
Make sure you fit the following criteria before applying for this card:
Applicants must be at least 18 years of age
Applicants must have a valid Social Security number
Applicants must have a valid U.S. address
How to Apply
Step 1 – Navigate to the Bank of America MLB Cash Rewards MasterCard webpage to begin the application process. Click on the Apply Now button next to the image of the credit card to continue.

Step 2 – At this juncture, you may choose your card design. Click on the drop down menu labeled Choose your card and locate the Minnesota Twins.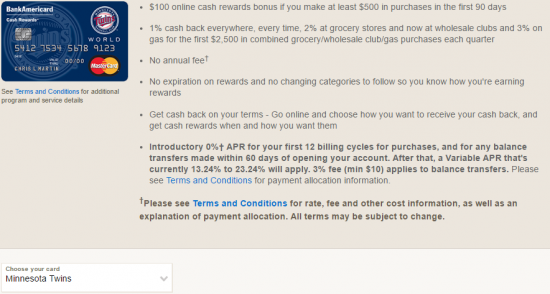 Step 3 – Next, we'll begin filling in the application form. Enter the following information into the appropriate fields:
Full name
Physical address
Primary phone number
Email address
Country of citizenship
Country of residence
Date of birth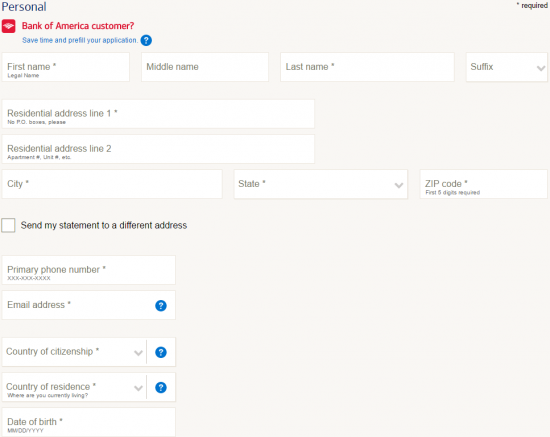 Step 4 – At this step, you are required to enter your Employment status, Total annual income, Source of income and Monthly housing payment.

Step 5 – If you wish to make a balance transfer, you may do so in the Additional options section. Tick the box next to Transfer a balance to my new credit card and enter the transfer information in the appropriate fields.

Step 6 – Read the terms and conditions, then tick the box below them to acknowledge that you have read and accepted them. Next, click the Review your information button to continue.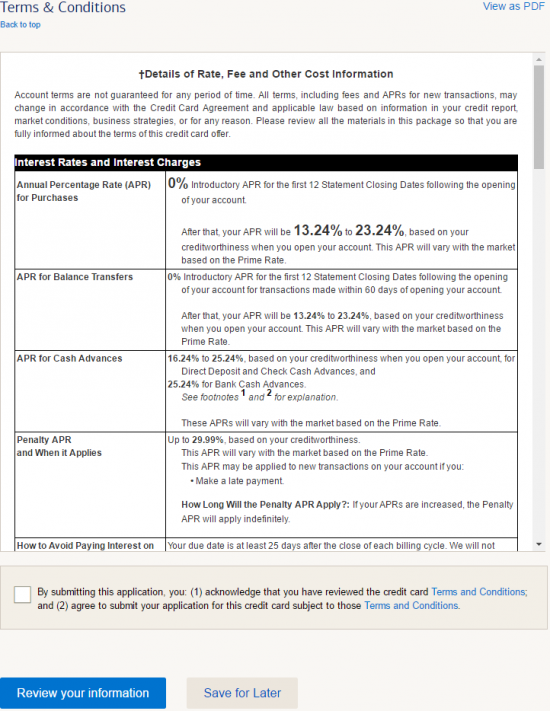 You will be asked to look over the information you've entered to ensure it is correct before submitting it for approval. We hope these instructions were easy enough to follow and that they've helped you achieve your goal. Best of luck!