If you've recently acquired a new credit card, there are steps that should be taken prior to making purchases to ensure that you stay on top of your finances. National Hot Rod Association Credit Card account online can be accomplished with relative ease through the card provider, UMB bank's homepage. From there you can manage your bills, statements and transfers without having to go to a UMB branch or speaking with customer service. Immediately below we have provided a guide to logging into your account, and, below that, a guide to online banking enrollment and credit card activation. Scroll down to gain a full understanding on any or all of these functions.
Before you continue, consult the UMB privacy policy to learn how they protect your information.
How to Login
To get started with the login process go to the UMB Bank homepage, navigate to the login panel and select Card Center Direct from the pulldown menu.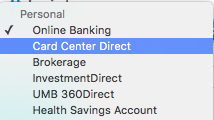 Enter your User ID in the indicated field and click Next to access your account. On the subsequent page, you will need to provide your password.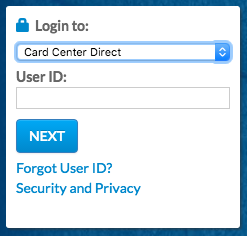 In the event that you have forgotten your User ID, you can regain access to your account by clicking the Forgot User ID? link found in the login panel. This will redirect you to the page pictured below, click Next: Continue to re-enroll to continue.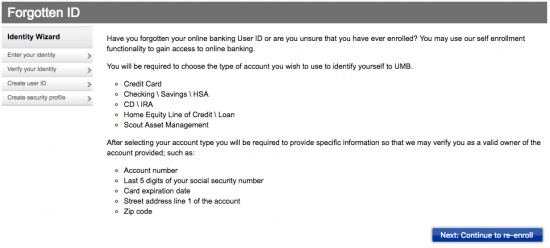 To authenticate your identity and find your account, you will need to provide the following information as indicated:
Click Verify your account to navigate to the next page where you will have to answer your previously established security questions to recover your User ID and login.
Activation/Registration
Did you just receive your National Hot Rod Association Credit Card and haven't activated it yet? As of yet there is no online function for card activation, however, we have provided the telephone number above which you can call to have your new card activated. Click the Secure registration link found immediately above to enroll in online access to your new account today. Provide the following information in the indicated field of the linked page:
Account type
Card number
SSN
Expiration date
ZIP code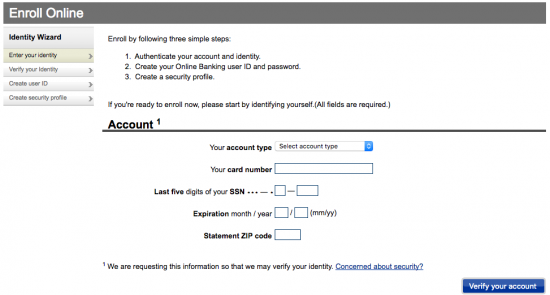 Click Verify your account and complete your enrollment by creating a User ID and setting up your security profile. You will then be able to access your account online.