The Office Depot Business Credit Card doesn't have enough going for it to earn our recommendation. There is no rewards program except for a signup incentive where you will save $50 on your first purchase of $150 or more. The APR is quite high for such a basic card at 23.99% (APR is subject to change), so unless you find some specific promotions for your business through Office Depot, we have no reason to suggest this as a candidate for you wallet. If you would like to apply nonetheless, scroll down the page for a brief walk through the application process.
Before you continue, please read the Citibank privacy policy to see how they protect the information you submit online.
Requirements
To be eligible you must fulfill the following requirements:
Be at least 18 years of age
Have a valid US SSN
Have a US mailing address
How to Apply
Step 1- To access the online application form for the Office Depot Business Credit Card,​ navigate to this webpage. Provide the following information in the appropriate fields:
Legal business name
Doing business as
Contact information (street address, phone number)
Billing information
Business structure
Business details (revenue, employee information, years of business)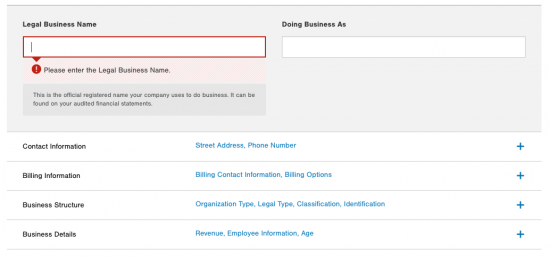 Step 2- Next, complete the following information regarding yourself as the principal applicant:
Name
Address
Date of birth
Phone number
Income
SSN

Step 3- Having completed all of the above fields, you will have the option to select whether you would like to add Additional Cards for other employees, and enter any Referral Codes that you have (if applicable).

Step 4- Read the Terms & Conditions Agreement for the Office Depot Business Credit Card. This document includes important information regarding your plan, privacy, security and additional electronic requirements.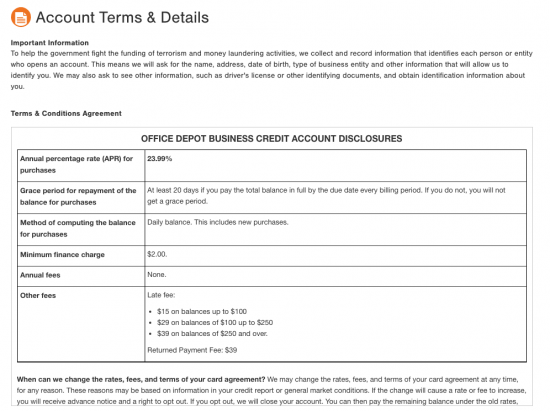 Step 5- If you have the software and equipment required as detailed in the Terms & Conditions Agreement, tick the box indicating this is the case. Tick the second box if you agree to the terms of your plan and wish to proceed. Finally, click Submit Application to send your forms in for review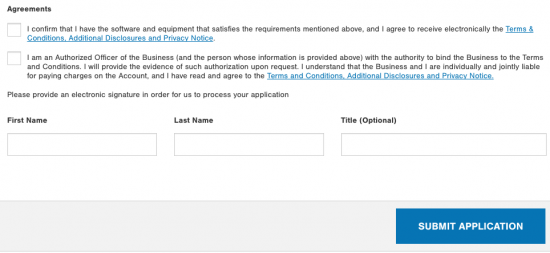 You will receive a confirmation within a few business days after the successful submission of your application. We wish you good luck on behalf of all of us here at cardreviews.org.